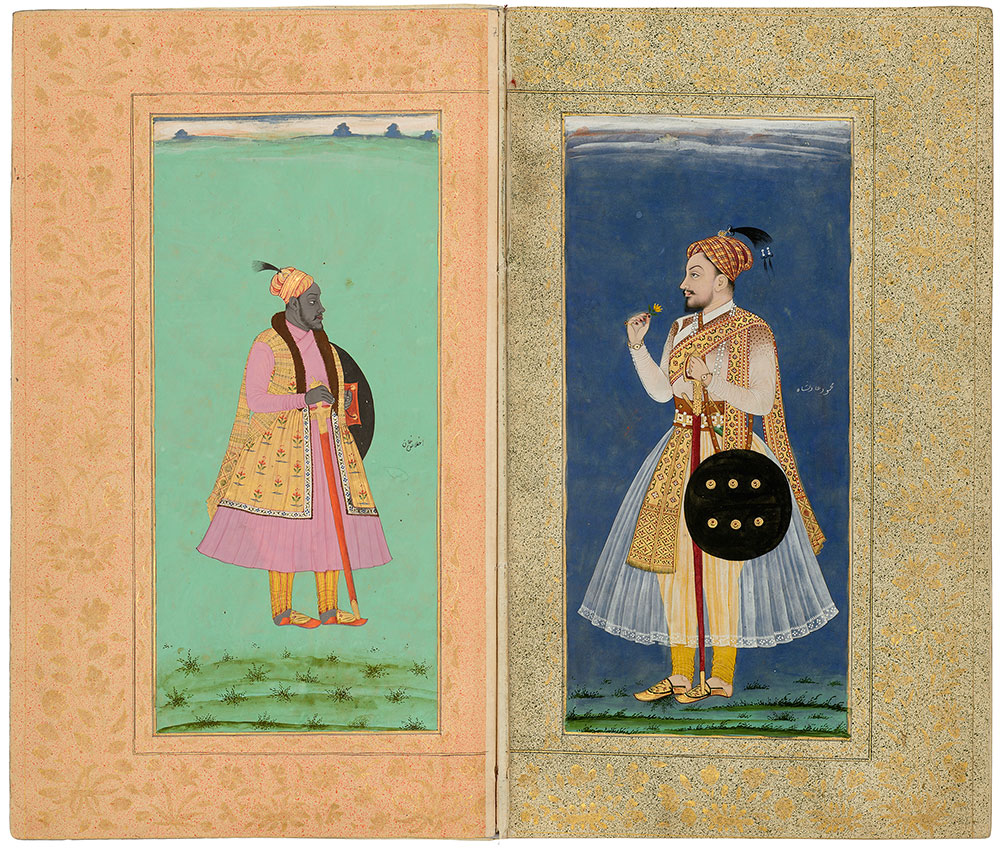 This album, containing dozens of portraits by several artists of rulers and noblemen from the Mughal Empire and the Deccan, was in the possession of the Dresden court by the end of the seventeenth century. Following a traditional representational style, these two portraits show Muhammad 'Ādil Shāh, Sultan of Bijapur, at right, and Ikhlās Khān, his military commander and influential minister, at left. Often copied from earlier depictions, the subjects of the album's portraits are identified by specific physical characteristics and attributes such as attire and weapons, though the artists expressed their individuality by introducing subtle variations. In the right-hand portrait, the unknown artist's creativity and skill are especially evident in the depiction of the transparent muslin skirt.
Transcription:
Austeja Mackelaite, Annette and Oscar de la Renta Assistant Curator of Drawings and Prints
The Kupferstich-Kabinett holds a small but important collection of Indian miniature paintings from the late seventeenth and early eighteenth centuries. Some of the works—including this seventeenth-century volume—entered the collection shortly after they were made. An inscription inside the book proves that it was in German possession by 1689 at the latest—an unusually early date. It probably reached Germany via Amsterdam, through the Dutch East India Company, which dominated European trade with Asia at this time.
The book includes depictions of rulers associated with four Indian dynasties. The subjects are identified in inscriptions at the center of each sheet; they are also recognizable through specific physical characteristics, attire, and weapons, as well as other attributes. In the image at right, Mohammed Adil Shah, Sultan of Bijapur [Bee-zha-poor], is placed against a plain background, boldly rendered in blue opaque watercolor. He is holding a flower, as an indication of his cultivated refinement. The image at left depicts Ikhlās Khān, a formerly enslaved man of Ethiopian descent, who served as a military commander and powerful advisor to the sultan. Khan is wearing a pink tunic and a jacket decorated with flowers, and holds a sword and a shield in his hands. The two men worked closely together and were often depicted side by side, as here.