January 23 through August 30, 2009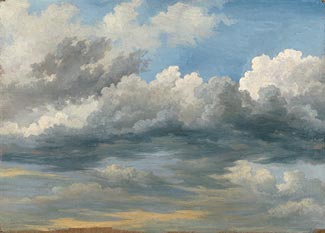 Intimately scaled sketches made in oils and executed in nature are the subject of a new exhibition. Studying Nature: Oil Sketches from the Thaw Collection presents more than twenty works drawn from the collection of Eugene V. and Clare Thaw, which chronicles the history of the genre in the eighteenth and nineteenth centuries.
The fresh and immediate quality of many of these sketches, the majority of which are executed on paper adhered to canvas, places them both literally and conceptually in between paintings and drawings. The complex circumstances of their creation and function has proved a fertile field of inquiry. The works showcase aspects of the role of the oil sketch in pedagogy and practice. The approach to natural motifs, such as still-life subjects, is seen in the closely detailed studies of branches, logs, and individual trees. The effort to capture ephemeral effects is evident in studies of clouds and storms, sunrises and sunsets, and waterfalls and fountains.
The exhibition includes oil sketches beginning with the late-eighteenth-century pioneers, such as Pierre-Henri Valenciennes (1750–1819), Simon Denis (1755–1813), and Francois-Marius Granet (1775–1849), with strong representation of nineteenth-century practitioners, including Jean-Baptiste-Camille Corot (1796–1875) and John Constable (1776–1837), and concludes with the late stages of the oil sketch concurrent with the dawn of Impressionism, with works by Eugène Isabey (1803–1886) and Charles-François Daubigny (1817–1878). The show features works by French, British, German, Belgian, Scandinavian, and Italian artists working in both their native lands and abroad.
Among the works on view are Jean-Michel Cels's Clouds and Blue Sky, one of a group of eight studies of clouds and sky that Cels executed between 1838 and 1842, and John Constable's Hampstead Heath with Bathers (ca. 1821–22), a study of the sky emphasizing cloud morphology and weather effects. Using a distinctive palette of dark and light greens and gray with pink accents, Corot executed The Hills of Genzano while working outdoors during the summer of 1826; he later reprised the same view in a deliberately constructed composition with a rider and peasants. Such works reveal the wide range of technique and function of the landscape oil sketch during this period.
Studying Nature: Oil Sketches from the Thaw Collection is organized by Jennifer Tonkovich, Curator, Drawings and Prints, the Morgan Library & Museum.
The exhibition and related programs are made possible by the Franklin Jasper Walls Lecture Fund.