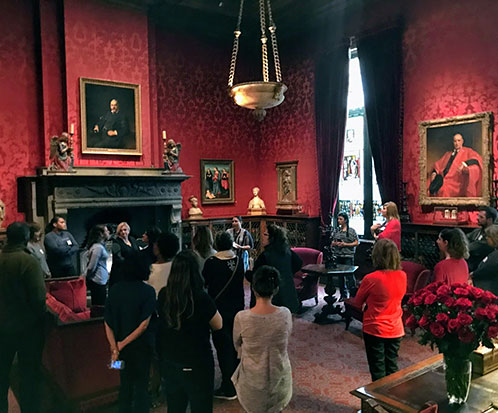 The Morgan Library & Museum invites your group to enjoy a special experience. Plan a visit for a group of ten to twenty participants (maximum capacity for a single tour) and enjoy discounted admission. Guided tours may be arranged for smaller groups, but still entail a minimum payment to satisfy the ten-person group requirement. Personalized tour planning assistance from our expert staff is available when scheduling your visit.

Our Highlights tour will provide your group with an overview of the Morgan's history, architecture, historic buildings, collections, and exhibitions. Tours of select special exhibitions are also available, offering an engaging encounter with the great span of artistic achievement.

Consider complementing your tour with light fare in the Morgan Café. Its casual atmosphere in the glass-enclosed Gilbert court is inspired by European al fresco dining. Finish your day with a visit to the Morgan Shop, located in J.P. Morgan Jr.'s former brownstone. Offering a diverse selection of gifts, the Shop specializes in items related to the Morgan's world-renowned collections of medieval and Renaissance manuscripts, drawings, rare books, original music scores, and ancient seals from the Middle East.

The following rates apply to groups of ten or more with advance reservations:
$20 Adults
$12 Seniors (65 and over)
$11 Students (with current ID)
$150 guided tour for up to twenty participants (in addition to the above per person rates)
College Groups: $200 fee per class for guided tour for up to twenty students (both undergrad and grad)
Groups of ten or more must book at least four weeks in advance.
There is no lecturing in the galleries except by Morgan Library & Museum staff and docents, without prior approval.
See group tour terms and conditions before completing the reservation request form.
Please complete this form to make a reservation online.

For additional information call (212) 685-0008, ext. 561; or e-mail tours@themorgan.org

School Groups
Please visit the Education page for information on K–12 school group visits.

Daily Exhibition and Permanent Collection Tours
Exhibition and permanent collection tours are available each day. See the schedule and more details here.