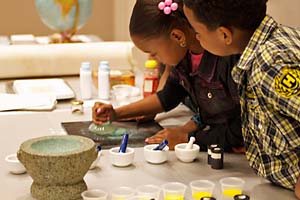 Please note that all school visits for Fall 2020 will be conducted virtually. Virtual programs are offered free to all public and Title 1 schools. Private schools pay a fee of $100 per program.
Colors of the World: Illuminated Manuscripts in the Age of Exploration
Students will step into Europe's past by reenacting skills and techniques that artists used to create the most exquisite medieval and Renaissance manuscripts in the Morgan's collections. They will delve into the art of Western illumination as a means of exploring early Eurasian and African trade routes.
Reading a Building: Mr. Morgan and His Library Students will piece together a character portrait of Pierpont Morgan by looking at his magnificent library.
Mythical Creatures Students will observe the imagery on Mesopotamian seals. Through gallery activities and art projects, they will be introduced to ancient myths and symbols.
For more information on these programs and our temporary exhibitions, please see the 2019–2020 School Brochure or e-mail schools@themorgan.org