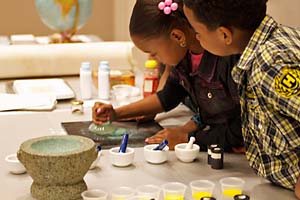 The Morgan Library & Museum is pleased to welcome student groups back to our campus! Please visit us on Explorable Places to view our current offerings and schedule your visit.
College groups, please e-mail tickets@themorgan.org to reserve your visit.
We're happy to offer the following core programs as well as field trips to our rotating exhibitions.
Ongoing
Colors of the World
Illuminated Manuscripts in the Age of Exploration, Part I
The Morgan's holds some of the finest examples of illuminated manuscripts created during the medieval and Renaissance periods. This program introduces students to the production of books prior to common usage of the printing press. Through the examination of primary sources and discussion of the Silk Road and other trade routes, students will trace the origins of natural resources traditionally used in the making of illuminated manuscripts. They will learn about the parts of a book and how materials such as saffron, cochineal, and lapis lazuli were transformed into pigments and paints.
 
Colors of the World
Illuminated Manuscripts in the Age of Exploration, Part II
The Colors of the World, Part II program is a hands-on workshop in which students engage in some of the medieval and Renaissance bookmaking techniques learned about in Part I. Using traditional tools and art materials, students create an original ornate initial and learn basic artistic skills: gilding with 22-karat gold leaf, grinding pigments from natural resources, and mixing watercolor paints. This program provides an authentic experience that invites students to appreciate and more fully understand the virtuosity of making illuminated manuscripts and why they are collected and cared for in institutions such as the Morgan Library. Colors of the World, Part II may be booked as a program that is taught on site at the Morgan, or offsite in which educators travel to your school and teach the program in your classroom. Colors of the World, Part II should be booked in combination with Colors of the World, Part I.
 
Reading a Building: J. Pierpont Morgan and His Library
Students will build visual literacy by learning to "read" architecture as a primary source and consider how interior and exterior design relate to each other. By analyzing the decorative program and magnificent objects within J. Pierpont Morgan's Historic Library, students will also learn about the Gilded Age and develop a character portrait of one of the world's most notable figures and his associates. Possible thematic connections include librarianship, the art of collecting, industrialization, monopolization, and finance, among many others.
 
Myths and Symbols: From Mesopotamia to Modern
Myths and symbols have recognizable yet dynamic meanings. Students will use critical thinking skills to examine how visual arts use symbolism to construct personal and cultural narratives. Together we will discover Mesopotamian myths on the Morgan's collection of cylinder seals, and explore storytelling imagery in the historic library's sculptures, paintings, and decorative arts. By discussing how individuals and cultures use myths and symbols to protect, adorn, and define themselves, students will develop perspective on their own use of myths and symbols today.
Temporary Exhibition Programs
Medieval Money, Merchants, and Morality
November 10, 2023 through March 10, 2024
Medieval Money, Merchants, and Morality charts the economic revolution that took place at the end of the Middle Ages and the early Renaissance. Trade was conducted on an unprecedented scale, banks were established, and coinage proliferated like never before. The widespread use of money in everyday life transformed every aspect of European society, including its values and culture. As people today reflect on fluctuating markets, disparities in wealth, personal values, and morality, the themes addressed in this exhibition are as relevant as ever.
 
Beatrix Potter: Drawn to Nature
February 23 through June 9, 2024
Creator of unforgettable animal characters like Peter Rabbit, Jeremy Fisher, and Mrs. Tiggy-Winkle, the beloved children's book author and illustrator Beatrix Potter (1866–1943) rooted her fiction in the natural world. The exhibition brings together artwork, books, manuscripts, and artifacts from several institutions in the United Kingdom, including the Victoria & Albert Museum, the National Trust, and the Armitt Museum and Library. Paired with the Morgan's exceptional collection of her picture letters, these objects trace how Potter's innovative blend of scientific observation and imaginative storytelling shaped some of the world's most popular children's books.
For more information on these programs and our temporary exhibitions, e-mail schools@themorgan.org