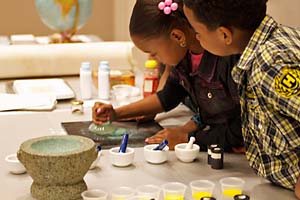 The Morgan Library & Museum is pleased to welcome student groups back to our campus! Please visit us on Explorable Places to view our current offerings and schedule your visit.
College groups, please email tickets@themorgan.org to reserve your visit.
We're happy to offer the following core programs as well as field trips to our rotating exhibitions.
Exhibition-based programs available Summer 2022:
One Hundred Years of James Joyce's Ulysses
June 3 through October 2, 2022
One Hundred Years of James Joyce's "Ulysses" explores Joyce's trajectory from lyric poet to modernist genius. It considers key figures in his career; artists and writers who responded to the novel; and the family who shaped him as a man and writer. At the exhibition's heart is Joyce's imagination as he created his masterpiece, explored in manuscripts, plans, and proofs, with major contributions from the James Joyce Collection, University at Buffalo, The State University of New York.


J. Pierpont Morgan's Library: Building the Bookman's Paradise
June 10 through September 18, 2022
In 1902, the American financier and collector J. Pierpont Morgan (1837–1913) commissioned architect Charles Follen McKim (1847–1909) of the firm McKim, Mead & White to design a freestanding library next to his home on East 36th Street in New York. With rarely seen architectural drawings, period photographs, and significant rare books and manuscripts from Morgan's collection, this exhibition traces the design, construction, and early life of J. Pierpont Morgan's Library. It honors the designers, tradesmen, artists, and builders who created the Library more than a century ago and celebrates the completion of the exterior restoration and enhancement of this landmark building, which now anchors the campus of the Morgan Library & Museum.
Ongoing
Colors of the World: Illuminated Manuscripts in the Age of Exploration
Students will step into Europe's past by reenacting skills and techniques that artists used to create the most exquisite medieval and Renaissance manuscripts in the Morgan's collections. They will delve into the art of Western illumination as a means of exploring early Eurasian and African trade routes. This is a two-part field trip; in their first visit students will explore the galleries and learn the basics behind the creation of illuminated manuscripts. In their second visit, students will gain hands-on experience grinding pigments, mixing paints, and creating their own ornate initial using authentic materials and real gold leaf.


Reading a Building: Mr. Morgan and His Library Students will practice visual literacy by learning to "read" architecture as a primary source. Participants will develop a character portrait of J. Pierpont Morgan by looking at his magnificent Gilded Age library.


Before the Book: Myths from Mesopotamia and Greece Students will discover how artists represent and interpret myths through imagery. Participants will explore the visual storytelling of Mesopotamian cylinder seals, the oldest works in the Morgan's collection, and compare them to the Greek myths painted on the ceiling of J. Pierpont Morgan's historic library.
For more information on these programs and our temporary exhibitions, e-mail schools@themorgan.org