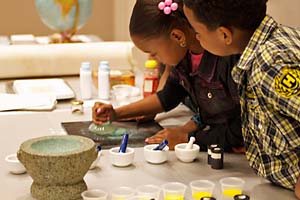 The Morgan Library & Museum is pleased to welcome student groups back to our campus! Please visit us on Explorable Places to view our current offerings and schedule your visit.
College groups, please email tickets@themorgan.org to reserve your visit.
We're happy to offer the following core programs as well as field trips to our rotating exhibitions.
Exhibition-based programs available Fall 2022:
Ashley Bryan & Langston Hughes: Sail Away
September 30, 2022 through January 22, 2023
From the 1960s onwards, artist Ashley Bryan has created and illustrated children's books that celebrate Black life and Black creativity. This exhibition focuses on his 2015 book Sail Away, in which Bryan pairs poems by Langston Hughes on the subject of water—oceans, seas, rivers, and rainstorms—with his own vibrant cut-paper collages. Students will view Bryan's original collages and paintings, as well as work in unusual formats such as puppets made from sea glass, shells, and other found materials, as they explore the conversation between these two great Black artists.


The Little Prince: Taking Flight
October 14, 2022 through January 15, 2023
The Little Prince: Taking Flight explores the visionary artistry and timeless wisdom of a story that inspires its readers to encounter new realms of experience with a leap of the imagination.Students will view Antoine de Saint-Exupéry's original manuscript of The Little Prince and consider relationships between text and image through further exploration of his watercolors, drawings, and other treasured items. For those who have known the Little Prince for some time, or for those just making his acquaintance, he is sure to captivate all and provide an opportunity to examine the creative process of writing and illustrating a book.
She Who Wrote: Enheduanna and Women of Mesopotamia, ca. 3400–2000 B.C.
October 14, 2022 through February 19, 2023
Enheduanna is the first writer identified by name in human history. She Who Wrote: Enheduanna and Women of Mesopotamia, ca. 3400-2000 B.C is the first exhibition to focus on the lives of women in the 3rd millennium B.C. Students will explore primary sources and artifacts representing women working in the economic, religious, and political spheres of city states and the world's earliest empire. Enheduanna's autobiographical writing reaches across millennia with a relatable voice speaking to issues of faith, power, and personal identity.

Inspired by Enheduanna, the Morgan is hosting a creative writing contest for teens.
Ongoing
Colors of the World: Illuminated Manuscripts in the Age of Exploration
Students will step into Europe's past by reenacting skills and techniques that artists used to create the most exquisite medieval and Renaissance manuscripts in the Morgan's collections. They will delve into the art of Western illumination as a means of exploring early Eurasian and African trade routes. This is a two-part field trip; in their first visit students will explore the galleries and learn the basics behind the creation of illuminated manuscripts. In their second visit, students will gain hands-on experience grinding pigments, mixing paints, and creating their own ornate initial using authentic materials and real gold leaf.


Reading a Building: Mr. Morgan and His Library Students will practice visual literacy by learning to "read" architecture as a primary source. Participants will develop a character portrait of J. Pierpont Morgan by looking at his magnificent Gilded Age library.


Before the Book: Myths from Mesopotamia and Greece Students will discover how artists represent and interpret myths through imagery. Participants will explore the visual storytelling of Mesopotamian cylinder seals, the oldest works in the Morgan's collection, and compare them to the Greek myths painted on the ceiling of J. Pierpont Morgan's historic library.
For more information on these programs and our temporary exhibitions, e-mail schools@themorgan.org