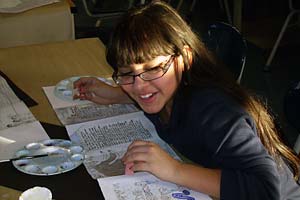 While the Morgan's school programs are free to all public schools, limited space makes it impossible to accommodate all applicants. In order to ensure successful implementation of the program, the Morgan's Education department reserves the right to give priority to teachers who commit to close collaboration with program staff.
Scheduling
Classes must be scheduled at least two weeks in advance.
When scheduling a Colors of the World two-session program, session two will generally be scheduled one week apart from session one.
Please be aware of testing days, half days, school holidays, and bus maintenance days. Tours will be shortened for late arrivals. Groups arriving more than 30 minutes after the scheduled tour time are subject to cancellation.
Due to limited space in galleries, school groups will be admitted into the Morgan only at their scheduled time of arrival. Groups will not be allowed in the building before or after their scheduled time slot. Please plan accordingly.
Morgan Educator's Contact with Teacher
After a visit is confirmed, the educator assigned to teach your class will contact you to discuss how to best tailor the visit to your current curriculum. The educator will tailor the session accordingly.
Special Needs
After your class visit has been confirmed, the Morgan educator assigned to your class will contact you directly to discuss any special needs your students might have. Our educators are skilled at working with students with special needs and will tailor the programs to children with various degrees of behavioral and developmental disabilities, as well as to English Language Learners.

Adult Supervision
As per the Chancellor's regulations for elementary and middle school students, we require at least one staff member and three additional adults for up to thirty-five students. For high school students, at least one staff member and one additional adult are required for up to thirty-five students.

Lunch
The Morgan does not provide lunch space to students. To learn about where your students may have lunch when they come to the Morgan, you may download a list of restaurants and public spaces near the Morgan.