Discover ways to enjoy the Morgan as a family with activities and events designed for younger visitors.
Family Workshops and E-Newsletter
Check our calendar for upcoming family programs and sign up for our e-newsletter The Morgan, Connected to never miss an event.
Morgan Family Guides
Enjoy our free Family Guides with sketching, closer looking and other activities. Available with pencils at the Admissions desk or virtually.
Winter Family Fair
Every December we celebrate the holiday season and the Morgan's annual display of the original manuscript of Charles Dickens's A Christmas Carol with a day of free family activities.
Family Reading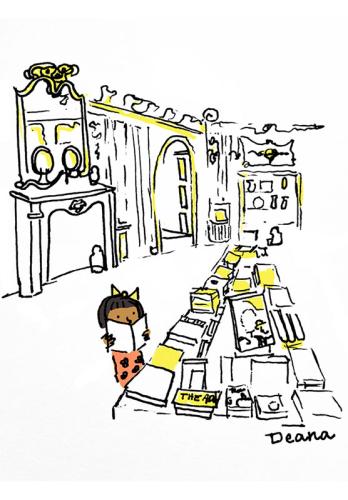 The Morgan is both a museum and a library, and we encourage families to read together! Explore our reading list inspired by the exhibition season.
Illustrations by Deana Sobel Lederman, Courtesy of the Morgan Library & Museum.