The Morgan's collection of classical, popular, and folk music includes autograph scores, composers' letters, printed music, and other printed materials. The Morgan houses the largest collection of Mahler manuscripts anywhere as well as substantial holdings of Brahms, Chopin, Debussy, Mozart, Schubert, and Richard Strauss. The collection spans six centuries and many countries.
Early Acquisitions
Although Pierpont Morgan is not on record as evincing any notable interest in music, he did make two important purchases: the two earliest dated letters of the thirteen-year-old Wolfgang Amadeus Mozart and the manuscript of Ludwig van Beethoven's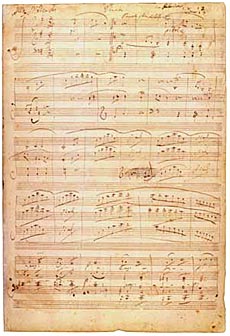 Ludwig van Beethoven, Violin Sonata no.
10 in G Major. Autograph manuscript,
1815. MA 16 Violin Sonata in G, op. 96. Having heard a performance of the sonata in a villa in Florence, Morgan purchased the autograph manuscript from his host. It remains one of the finest Beethoven autographs in this country and a cornerstone of the collection.
The depth of the Morgan's music collection is the result of the generosity of several donors.
Heineman and Cary Collections: Bach, Chopin, Mozart, Mahler
In 1962 the Dannie and Hettie Heineman Collection was placed on deposit, adding a small but exceedingly well-chosen selection of music manuscripts. Formally given to the Morgan in 1977, it is one of the most important and valuable gifts the Morgan has received. Among its highlights are the only surviving portion of Bach's Cantata no. 197a (Ehre sei Gott in der Höhe) and Chopin's Polonaise in A-flat, op. 53.
In 1968 the Morgan became a major repository of music manuscripts with the donation of Mary Flagler Cary's extraordinary collection of music manuscripts, letters, and printed scores, one of the greatest of its kind in the United States. Fully three quarters of the manuscripts date from the nineteenth century, with major works by Beethoven, Schubert, Brahms, and Chopin. In addition the Mary Flagler Cary Charitable Trust provided funds for the acquisition of such singularly important manuscripts as Mozart's "Haffner" Symphony,

Wolfgang Amadeus Mozart, Symphony in D Major, K. 385
(the "Haffner" Symphony). Autograph manuscript, 1782.
Cary 483 Der Schauspieldirektor, and K. 1a-d, his earliest known works; Schubert's Winterreise; Mahler's Fifth Symphony; Stravinsky's Perséphone; and made possible the purchase of a large and important group of Italian manuscripts, including works of Bellini, Cimarosa, Donizetti, Puccini, Rossini, and Verdi.
James Fuld Collection
In 1989 the Morgan agreed to purchase the James Fuld Collection, by all accounts the finest private collection of printed music in the world. It comprises thousands of first editions of works—American and European, classical, popular, and folk—from the eighteenth century to the present. In addition to scores and sheet music, Fuld acquired related material, including letters, manuscripts, programs, posters, photographs, and other so-called ephemera.
The collection contains legendary rarities such as the first issue of The Star-Spangled Banner as well as first editions of important American musical works such as America, Battle Hymn of the Republic, Dixie (one of three known copies), Happy Birthday to You, Jingle Bells, and St. Louis Blues (signed by W. C. Handy). It also includes the probable first edition of the Neapolitan song Santa Lucia (ca. 1850), an early printing of Greensleeves (1701), and the first edition of Stille Nacht (Silent Night).
Letters, Opera, Juvenilia
In addition to the letters of Gilbert and Sullivan described below, the Morgan houses about seven thousand letters of musicians. The earliest, dated 1547, is by Nicolas Gombert. Substantial later holdings include letters of Berlioz, Debussy, Mendelssohn, Schoenberg, and Wagner.
The Morgan has a rich collection of opera sources, from a rare early edition of Rinuccini's libretto for L'Arianna (1608), Monteverdi's second opera, to John Eaton's working manuscript and annotated typescript of the libretto for Danton and Robespierre (1978), a communication from Eaton on the writing of the opera.
A fine collection of musical juvenilia includes music manuscripts, printed songbooks, and pictures of young musicians. Highlights are the manuscripts of the earliest known works by Mozart—four short keyboard pieces written when he was five—and a fantasy for piano, four hands, composed by Schubert at the age of thirteen. The collection also contains portraits of such young musicians as seven-year-old Willy Ferrero (1906-1954), billed as "The Youngest Symphony Conductor in the World."
Other Collections
The Robert Owen Lehman Collection, on deposit, is the world's finest private collection of music manuscripts. The nucleus is a splendid group of manuscripts that once belonged to the eminent French pianist and collector Alfred Cortot. The collection is especially strong in French music, notably that of Debussy and Ravel. Highlights include Bach's Cantata 171 (Gott, wie dein Name, so ist auch dein Ruhm); Brahms's Symphony no. 2; Chopin's Variations on "Là ci darem la mano," op. 2; the short score of Debussy's Prélude à l'après-midi d'un faune; the Franck Violin Sonata; the Liszt Piano Sonata; Mahler's Symphonies nos. 3 and 9; Mendelssohn's Hebrides overture; nine Mozart symphonies; Ravel's Bolero and Piano Concerto for the Left Hand; Schoenberg's Pierrot lunaire; Schumann's Symphony no. 2; Stravinsky's Petrushka; and Weber's Clarinet Concerto no. 2. Mr. Lehman is the Morgan's most generous music donor. His gifts, beginning in 1968, include manuscripts of Fauré, Saint-Saëns, Berlioz, Liszt, and Webern.
The Charles Alvar Harding Collection comprises autograph letters of musicians and literary figures, some printed books, and many photographs. About 350 Verdi printed scores and librettos were the gift of George W. Martin. Sarah C. Fenderson presented the Morgan with Berlioz letters, album leaves, and part of the manuscript of his Mémoires.
Gilbert and Sullivan
The Morgan's collection of materials relating to the lives and works of the dramatist William S. Gilbert and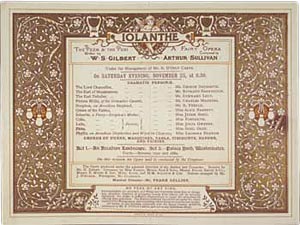 Program from the first performance of Iolanthe at the
Savoy Theatre, London, November 25, 1882 composer Arthur S. Sullivan is the most extensive archive of its kind in the world. The diversity of the two men's activities in the pursuit of their professions, as well as in their private lives and wide spheres of contact, is reflected in the depth and variety of the holdings. Founded by Reginald Allen, who brought his extraordinary collection to the Morgan in 1949, the Gilbert and Sullivan collection has grown several times over and now comprises more than 20,000 items. These include printed sheet music, vocal and piano scores, early editions of plays, printed librettos and acting editions, music manuscripts, letters, and thousands of graphics and ephemera, such as programs and handbills, original photographs, posters and playbills, and memorabilia.
Some of the items in the Gilbert and Sullivan collection are important for obvious reasons: they are first editions or autograph manuscripts and letters. Other items, such as programs, newspaper cuttings, and nineteenth-century biographies, are important for documentary reasons. Posters, sheet music covers, photographs, and newspaper and magazine illustrations are of iconographic significance. Advertisements and twentieth-century programs help to document the sustained popularity of the operas.
Medieval Music
A brief description of the Morgan's holdings in medieval music will be found in the section on Medieval and Renaissance Manuscripts.
CORSAIR, the Morgan's online collection catalog, is available here.