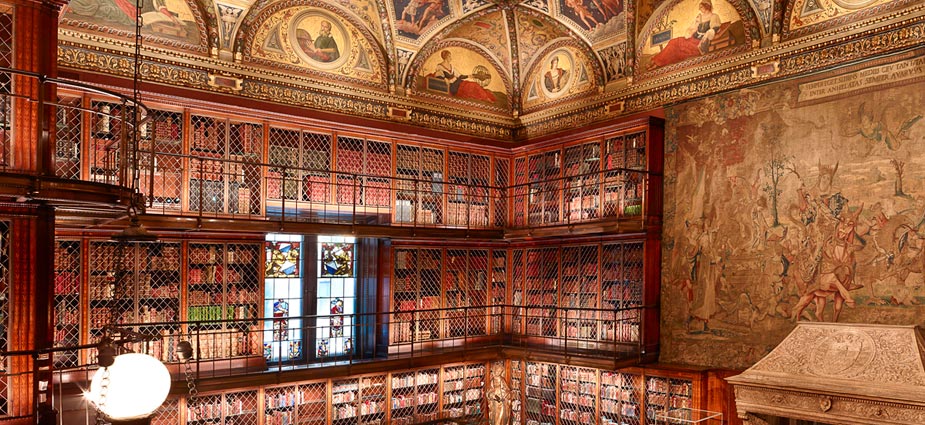 Welcome to the online Press Room of the Morgan Library & Museum. Press releases appear to the right, in chronological order by date of release.
Welcome to the online Press Room of the Morgan Library & Museum. Press releases can be browsed by date.
If you are a member of the working media, requests for information, images, and interview opportunities can be directed to: ​
Department of Communications & Marketing
The Morgan Library & Museum
225 Madison Avenue

New York, NY 10016
212.590.0311
[email protected]

PRESS CONTACTS 
Shaili Shah
ABOUT THE MORGAN LIBRARY & MUSEUM
A complex of buildings in the heart of New York City, the Morgan Library & Museum began as the private library of financier Pierpont Morgan, one of the preeminent collectors and cultural benefactors in the United States. Today it is a museum, independent research library, music  venue, architectural landmark, and historic site. A century after its founding, the Morgan maintains a unique position in the cultural life of New York City and is considered one of its greatest treasures. With the 2006 reopening of its newly renovated campus, designed by renowned architect Renzo Piano, and the 2010 refurbishment of the original library, the Morgan reaffirmed its role as an important repository for the history, art, and literature of Western civilization from 4000 B.C. to the twenty-first century.
IMAGE RIGHTS, PHOTOGRAPHY, AND FILMING POLICY
Members of the media may photograph or film within approved areas of the Morgan for the purpose of news coverage. Photo and video shoots must be approved and arranged in advance. All organized photo or film shoots inside the Morgan require an escort by a member of staff. Please contact us for more information or to discuss scheduling a shoot.
Accredited media are permitted to use images supplied by the Department of Communications & Marketing for press related to the activities and collections of the Morgan. If you seek permission to use images for other purposes, please contact the Department of Imaging & Rights.