The Morgan requires proof of Covid-19 vaccination for visitors 12 and older. Plan your visit.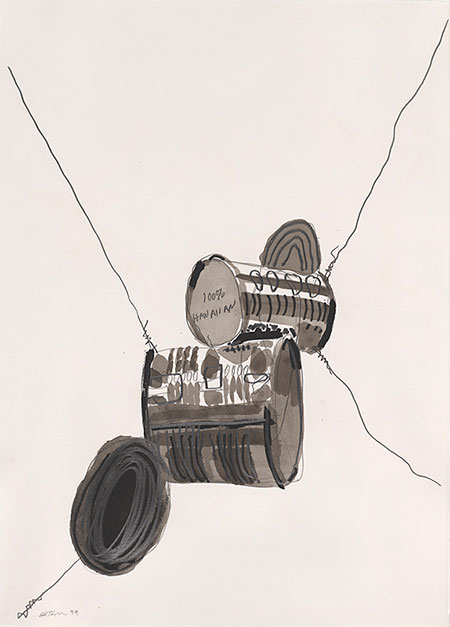 The Drawings of Al Taylor
February 21 through September 13, 2020
Press Preview: February 20, 2020 at 4 PM
The Morgan Library & Museum is proud to announce a presentation of drawings by painter, sculptor, and draftsman Al Taylor (1948–1999). The Drawings of Al Taylor, on view February 21 through May 24, 2020, explores the artist's lyrical and witty compositions inspired by banal objects and everyday situations. Driven by curiosity and a sense of humor, Taylor drew maps of pet stains, imagined puddles hanging out to dry, and rendered elegant still lifes of tin cans suspended by wires. During his relatively short career, Taylor produced more than five thousand drawings, in which he combined technical skills, Old Master virtuosity, and graphic systems such as charts and diagrams. The exhibition at the Morgan will shine a new light on Taylor's practice, highlighting the artist's distinctive draftsmanship through works spanning the mid-1970s to the late 1990s. The first U.S. museum exhibition devoted to this subject, The Drawings of Al Taylor comprises nearly eighty drawings and twenty sketchbooks, including many drawings that have never been shown before.