The Sherman Fairchild Reading Room is open and accepting reader applications. If you would like to request an appointment please fill out our online application. Due to the high volume of requests, we advise researchers to contact us with a minimum of 4–6 weeks advance notice in order to avoid disappointment. We appreciate your continued patience and understanding as we work to accommodate requests.
Information about our procedures will be provided to researchers accessing the Reading Room when confirming their appointments. If you need immediate assistance with research questions please continue to e-mail readingroom@themorgan.org or call us at (212) 590-0315.
Masks are optional, but welcome for the duration of your visit in the Reading Room; we are glad to provide a KN95 mask, if desired.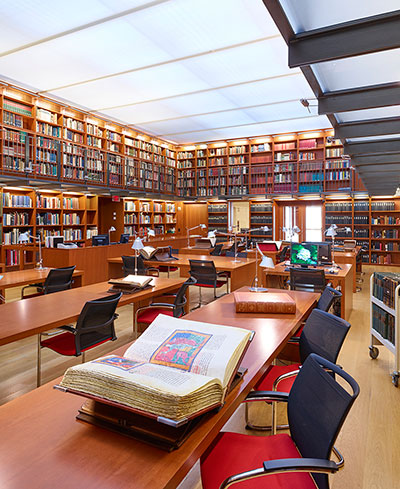 Online Application
Frequently Asked Questions
1. Who uses The Sherman Fairchild Reading Room?
The Reading Room serves researchers who demonstrate a need to consult the Morgan's rare materials, which have as their focus the history, art, and literature of the Western world. The Morgan makes collection items as accessible as possible, though within the limits set by their rarity and fragility. There is also a large reference collection, including facsimiles, microfilms, and bibliographic works that are not readily available elsewhere. Neither rare nor reference material held by the Morgan circulates. Researchers are welcome to apply to study items from the Morgan's collection.
2. Do I need an appointment to use the Reading Room?
Yes. The Reading Room is open by appointment and free of charge to researchers whose applications for admission and requests to consult specific material have been approved as described in sections four and five below.

We accommodate as many readers as possible each day but space is limited. We recommend that readers request appointments four to six weeks in advance of their preferred dates. Please note each reader is required to fill out a separate application.

Reading Room and Museum hours differ, please check the visitor information page.
3. When is the Reading Room open?
The Reading Room is currently open on Tuesdays, Wednesdays, and Fridays, 10AM-4PM. We are closed Mondays, Thursdays, Saturdays, and Sundays, as well as on the following holidays:
New Year's Day
Martin Luther King, Jr. Day
Presidents' Day
Memorial Day
Independence Day
Labor Day
Indigenous Peoples' Day / Columbus Day
Veterans Day
Thanksgiving Day and the following day
Christmas Eve through New Year's Eve
 
4. What is required to do research in the Reading Room?
Complete and submit the online application. Please provide a detailed description of your research. Most collection items are fragile, valuable, and irreplaceable. Readers should be prepared to explain why their project requires physical examination of the material they wish to consult. A letter of reference from a professional colleague or from an academic advisor may be required for consultation of certain rare materials. Please note that we only accept letters with a signature sent by fax, mail, or as a PDF attachment to an e-mail.

In the final section of the application, list the items you are requesting, taking the information from our online catalog, CORSAIR; see section 6 below. Access to rare material is not granted without curatorial approval. If the condition of an item requires it, readers will be asked to use secondary materials, such as facsimiles or microfilms, before or in lieu of examining the original.
5. Do I have to submit an application if I have previously used the Reading Room?
If you have sent an application within the previous twelve months you do not, unless your personal information or your project has changed. An appointment, however, is always required.
6. How do I find which collection items I want to see?
Please use the Morgan's online catalog, CORSAIR. The final section of the application provides space to put the required information for each item. Please include the starred fields from the CORSAIR record. Cut and paste them into the spaces provided. You will have the opportunity to request additional items once you have submitted your application.
7. Is photography permitted in the Reading Room?
Digital photography for study purposes only may be permitted. Please indicate in your application that you would like to take photographs and review the Reading Room's digital photography policy.
8. Does The Morgan participate in Interlibrary Loan?
The Morgan Library & Museum does not participate in Interlibrary Loan (ILL). While we do not lend physical items and may not be able to provide photocopies or scans, information on obtaining photography from our Department of Imaging & Rights may be found here. Researchers are welcome to apply to consult materials by appointment in the Reading Room.
9. Does The Morgan provide appraisals of rare items?
The Morgan Library & Museum cannot provide appraisals of rare items. You may wish to consult:
Your Old Books, Association of Research Libraries, American Library Association.
"This guide covers some frequently asked questions about rare books and book values."
The Antiquarian Booksellers' Association of America publishes an annual membership directory. It includes subject and geographical indices to help you contact the booksellers who might be of assistance.
10. Does The Morgan provide general reference services?
As an independent library for researchers and scholars, the Morgan cannot provide general reference service. For general reference questions you may wish to consult your local public library or these Internet resources:
11. Is there a charge to access the Reading Room?
No, conducting research in the Reading Room is free of charge. Please refer to items #2 and 4.
12. What are the guidelines for using the Reading Room?
Readers must wash their hands before entering the Reading Room; there is a sink in the foyer for this purpose.
Readers may not touch written, decorated, or painted surfaces of rare items. Taking tracings or rubbings is not allowed.
Readers should refrain from wearing fingernail polish (even gel, shellac, and clear polish), since it might leave marks on the rare materials.
Readers should be aware of long hair, scarves, or jewelry dragging across any rare or reference materials if they are looking closely and if they are wearing these while visiting.
Reading Room staff delivers all requested items to readers at their tables and collects them when readers are finished.
Guidelines for handling specific types of material will be distributed in the Reading Room.
Lockers in the Reading Room foyer (measuring 12 in. H x 17 in. W x 21 in. D) can accommodate personal items not allowed in the Reading Room proper. The following items may not be brought into the Reading Room:

Bags, backpacks, purses
Briefcases, suitcases
Cases (e.g. for computers and cameras)
Cell phones, unless muted or turned off
Coats, hats
Guests
Food, drinks, gum
Pens, markers, highlighter

All personal belongings are subject to inspection and search upon entering and exiting the Reading Room
For further information, please contact:
Reading Room
The Morgan Library & Museum
225 Madison Avenue
New York, NY 10016-3405
Phone: (212) 590-0315
Fax: (315) 533-4778
readingroom@themorgan.org

The Morgan Library & Museum and its programs are accessible to people using wheelchairs. Wheelchairs are available for use during your visit.