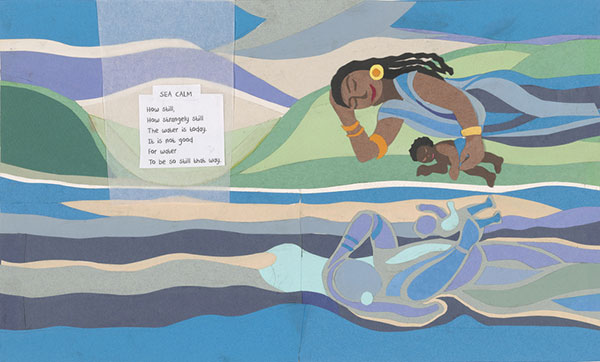 The Splendid Gift Was Generously Given by the Ashley Bryan Center
The Morgan Library & Museum is pleased to announce the acquisition of the preliminary drawings and collages that appear in Ashley Bryan's 2015 book Sail Away (Simon & Schuster). Generously given to the museum by the Ashley Bryan Center, the splendid gift is a particularly fitting one. As both a library and a museum—an institution for great works of both literature and art—the Morgan serves as the perfect home for Sail Away, in which Bryan's magical cut-paper collage compositions illuminate the stirring words of one of our country's most important poets, Langston Hughes. For the book, Bryan chose poems by Hughes on the subject of seas, sailing, and rivers, including his iconic poem The Negro Speaks of Rivers. This gift marks the first major collection of materials created by an African American children's book author and artist to enter the Morgan's holdings. The Morgan is especially strong in collections that document the creative process, and the new acquisition includes not only preliminary drawings but also handmade book dummies that allow us to follow Bryan's method of working as he developed the illustrations for publication.
Ashley Bryan, Sea Calm (from Sail Away) 2015. The Morgan Library & Museum, Gift of the Ashley Bryan Center, 2021.25:9r. © 2015 The Ashley Bryan Center. Used with Permission. All Rights Reserved.