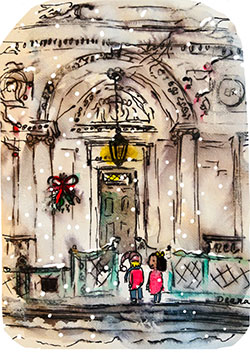 Celebrate the holiday season with the Morgan's annual display of the original manuscript of Charles Dickens's A Christmas Carol and enjoy our current exhibitions.
This year the Winter Family Fair returns onsite — enjoy an afternoon of live music, gallery exploration, prizes, a film screening, and more!
In compliance with city guidelines, museum visitors twelve and older must show proof of at least one shot of a Covid-19 vaccine approved for emergency use by the FDA or the World Health Organization. Everyone entering the Morgan's campus must wear a face covering. Our full Covid-19 safety protocols are listed here.
2–4:00 PM
Mr. Fezziwig's Party Favors
Visit the Welcome Table in the Gilbert Court to pick up your free party favor bag for the day.
Gift Rapt
Sign up for our Family Raffle for two chances to win a copy of A Christmas Carol and Change Sings: A Children's Anthem by poet Amanda Gorman. Learn more about Ms. Gorman and the Morgan's collection here.
Raffle drawings at 3:00 PM and 4:00 PM .
Jingle Bells
A string trio featuring students from the Manhattan School of Music play holiday music.
"Come in and know me better, man!"
Get into character, literally, as a figure from A Christmas Carol using the head-in-the-hole board mimicking Punch contributor John Leech's famous illustrations.
Silent Knights
Inspired by the exhibition, Imperial Splendor: The Art of the Book in the Holy Roman Empire, ca. 800–1500, participants will embark on a quest to discover the Morgan's hidden treasures.
Film Screening: The Muppet Christmas Carol
Director: Brian Henson
(1992, 85 minutes)
Screening from 2:30–3:55PM
Gonzo the Great plays Charles Dickens, who narrates the story of miser Ebenezer Scrooge, (Michael Caine) who is visited by three spirits and countless Muppets in this very merry adaptation of the book.
Sunday, December 12, 2021 2–4:00 PM
 All activities are free with museum admission. The Morgan is free to children twelve and under.