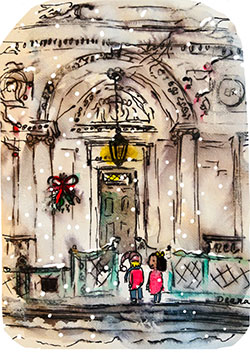 Sunday, December 11, 2022 2–4:00 PM
Celebrate the holiday season with the Morgan's annual display of the original manuscript of Charles Dickens's A Christmas Carol and enjoy crafts and activities themed to our current exhibitions.
All activities are free with museum admission. The Morgan is free to children twelve and under.
Our current Covid-19 safety protocols are listed here.
2–3:45 PM
Christmas Present!
The Grand Falloons company entertains visitors in a lively celebration of A Christmas Carol with strolling characters Ebenezer Scrooge, Bob Cratchit, and the Ghost of Christmas Present, as Victorian-era performers delight with magic and music.


"Come in and know me better, man!"
Get into character, literally, as a figure from A Christmas Carol using the head-in-the-hole board mimicking John Leech's famous illustrations.


Simply Divine
Feel completely "awe-some" crafting and wearing your own horned crown, the symbol of Mesopotamian divinity.


Felt with the Heart
Children can choose the costume of the Little Prince or the Fox and pose for family pictures in the historic parlor.


Luck of the Draw: Family Raffle
Sign up for a chance to win a copy of A Christmas Carol by Charles Dickens, Beautiful Blackbird by Ashley Bryan, or a pair of the Little Prince and the Fox stuffed toys.
2–3:00 PM
Meet the Filmmaker: Mark Osborne
Mark Osborne, director of The Little Prince, Kung Fu Panda and many film and television shows, will showcase the puppets from his animated film The Little Prince.
3:15–3:30 and 3:30–3:45 PM
Ashley Bryan Family Storytime
Sit down and relax with a live storytime with picture books by Ashley Bryan.
3:45-4:00 PM
Closing Carols and Raffle Drawing
The Grand Falloons close the afternoon with a rendition of classic holiday songs.
Continue your museum visit by exploring the exhibitions Ashley Bryan & Langston Hughes: Sail Away, Georg Baselitz: Six Decades of Drawings, The Little Prince: Taking Flight, and She Who Wrote: Enheduanna and Women of Mesopotamia, ca. 3400–2000 B.C as well as the original manuscript of Charles Dickens's A Christmas Carol in J. Pierpont Morgan's library.
Film Screening: The Little Prince
Director: Mark Osborne
(2015, 108 minutes)
Rated PG
Sunday, December 11, 2022, 12:00 PM
From Mark Osborne comes the first-ever animated feature film adaptation of Antoine de Saint-Exupéry's iconic masterpiece, The Little Prince. In this award-winning film the Aviator introduces a girl to a world where she rediscovers her childhood and learns that it's human connections that matter most.