October 27 through December 29, 2002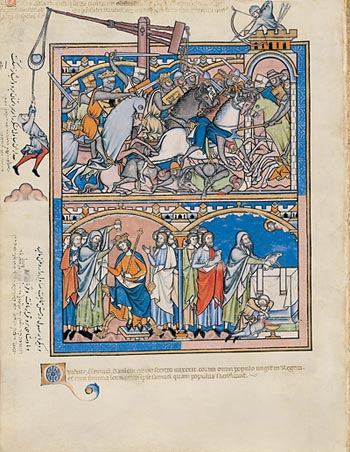 The Walters Art Museum made the Middle Ages come alive for visitors with The Book of Kings: Art, War, and the Morgan Library's Medieval Picture Bible. The Picture Bible—one of the greatest illuminated manuscripts produced in France during the thirteenth century—was disbound for conservation and study, offering visitors a once-in-a-lifetime opportunity to view twenty-six of the book's pages in a single exhibition. The Book of Kings used the Picture Bible, on loan from the Morgan to explore ways in which Christian, Muslim, and Jewish cultures used storytelling to define themselves and their values.
Accompanying the Bible were other objects from the Gothic period—arms and armor, religious artifacts, and everyday domestic items—many similar to those seen in the pages of the manuscript itself. The creators of this Bible, in order to make its lessons relevant to its audiences, set Old Testament stories in contemporaneous environments. For example, depictions of architecture evoke the castles and houses of thirteenth-century French towns; battle scenes are full of thirteenth-century armor, weapons, and battle insignia. By including objects from the Middle Ages, the exhibition gave viewers a more accurate understanding of the manuscript and of the period in which it was created.
The Walters Art Museum
600 North Charles Street
Baltimore, MD 21201
General information: (410) 547-9000
http://www.thewalters.org