September 27, 2002, through January 19, 2003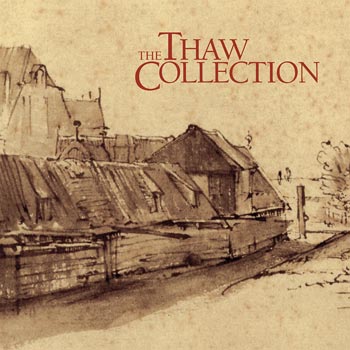 The Thaw Collection is an exhibition of works that have been acquired by Eugene V. and Clare E. Thaw since 1994. In the decades since the early 1950s, when they obtained their first drawing, a figure study by Giambattista Tiepolo, they have assembled one of the finest collections of drawings and watercolors in private hands. On the occasion of the first exhibition of their drawings at The Morgan Library & Museum in 1975, the Thaws announced their intention to eventually present the collection to the institution. Since then, there have been three additional exhibitions—in 1985, 1994, and 2009. In 1996–97 an overview of their holdings was presented at the Royal Academy of Arts in London.
In 2002, The Thaw Collection: Drawings and Oil Sketches, Acquisitions Since 1994 comprised 111 works. Among the masters represented were Vittore Carpaccio (1460/5–1525/6), Hilaire Germain Edgar Degas (1834–1917), Giorgio Morandi (1890–1964), Odilon Redon (1840–1916), and Georges Seurat (1859–1891). Particularly noteworthy were Samuel Palmer's (1805–1881) Oak Tree and Beech, Lullingstone Park and Rembrandt Harmensz. van Rijn's (1606–1669) The Bulwark De Rose and the Windmill De Smeerpot in Amsterdam.
An important new component was a group of forty-eight oil sketches by artists of the late eighteenth and nineteenth centuries, many of whom were already represented in the exhibition. This new area, akin to drawing and painting, was a natural extension of Eugene Thaw's interest in landscape painting. It marked an important departure for the Morgan as well.
The exhibition also featured two illustrated artists' letters by Edouard Manet (1832–1883) and Vincent van Gogh (1853–1890) as well as approximately forty oil sketches on paper by European artists of the late-eighteenth to mid-nineteenth centuries.
The Thaw Collection: Master Drawings and Oil Sketches, Acquisitions Since 1994 is made possible by Janine Luke and Melvin R. Seiden, David Rockefeller, Parker and Gail Gilbert, and Annette and Oscar de la Renta, with additional assistance from Jane Forbes Clark, Ronay and Richard Menschel, Kathleen and Gerald Peters, Mrs. Charles Wrightsman, Agnes Gund and Daniel Shapiro, Stephen and Carla Hahn, and Anne and Marty Peretz.
The catalogue was made possible in part by the Franklin Jasper Walls Lecture Fund.