March 6 through June 6, 2004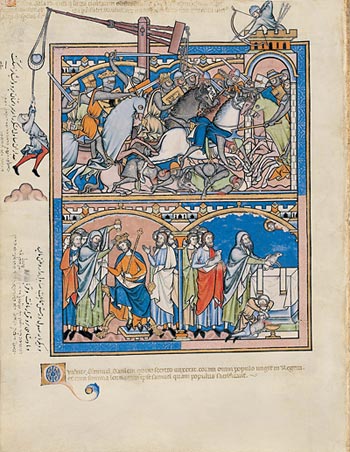 The Book of Kings: Art, War, and the Morgan Library's Medieval Picture Bible used medieval works from the Morgan and The Walters Art Museum, Baltimore, to explore ways in which Christian, Muslim, and Jewish cultures used storytelling to define themselves and their values. The Picture Bible—one of the greatest illuminated manuscripts produced in thirteenth-century France—was disbound for conservation and study, offering visitors a once-in-a-lifetime opportunity to view twenty-six of the book's pages in a single exhibition. The Book of Kings which was on view at the Princeton University Art Museum was organized by The Walters Art Museum in collaboration with the Morgan.
Scholars believe that the Picture Bible was commissioned by Louis IX of France, the Capetian monarch who built the Sainte-Chapelle in Paris to house the crown of thorns before leaving for the first of his two crusades in 1248. The Bible later passed to the cardinal of Cracow, who then offered it as a diplomatic gift to the great Persian Muslim shah 'Abbas in the early seventeenth century. The manuscript eventually fell into the hands of Jewish owners, probably during the eighteenth century. These various owners left Latin, Persian, and Judeo-Persian inscriptions around the images. With these inscriptions, the keepers of the manuscript used their languages to assert their ownership of the book, appropriating its narrative contents and assimilating it into their own cultures.
The Picture Bible is illustrated with saturated colors and exquisite detail. In order to make its lessons relevant to readers, the creators of this Bible set Old Testament stories in contemporaneous environments. For example, depictions of architecture evoke the castles and houses of thirteenth-century French towns, and battle scenes are illustrated with thirteenth-century armor, weapons, and battle insignia. Also on exhibition were contemporary religious artifacts and everyday domestic items from The Walters Art Museum, many similar to those seen on the pages of the manuscript itself. By including objects from the Middle Ages, the exhibition provided a more accurate understanding of the manuscript and the period in which it was created.
March 6 through June 6, 2004
Princeton University Art Museum
Princeton University
Princeton, NJ 08544-1018
(609) 258-3788
http://www.princetonartmuseum.org
September 12 through October 24, 2003
Academy Art Museum
106 South Street
Easton, MD 21601
(410) 822-2787
http://www.art-academy.org
November 14 through December 26, 2004
The Mitchell Art Gallery
St. Johns College
60 College Avenue
Annapolis, MD 21401
(410) 626-2556
http://www.stjohnscollege.edu
January 30 through April 25, 2005
Williams College Museum of Art
15 Lawrence Hall Drive, Ste. 2
Williamstown, MA 01267
(413) 597-2429
http://www.williams.edu/WCMA/