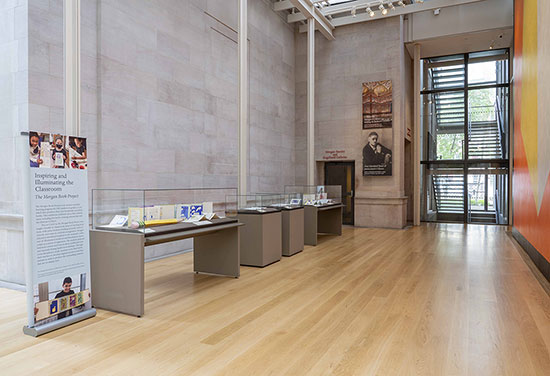 The 2022 Morgan Book Project exhibition of illuminated manuscripts made by New York City students in grades 3–12 features the annual selection of 12 judges' picks and the singular Director's Choice. These handmade accordion books represent and celebrate the narrative innovation and artistic creativity of approximately 450 students at 10 schools across all five boroughs of New York City.

This year the Morgan Book Project experimented with new elements to accentuate and complement the beloved books. Students at P.S. 29 Bardwell, under the direction of art teacher Zach Lombardi, constructed papier mâché sculptures and brought to life characters and objects featured in their stories. The Cool Pencil by Dea Kovaci may be seen in the show as both a book illustration and a three-dimensional work of art.
The Morgan Book Project also extended its reach and included students from Edison Park Elementary School in Chicago, IL. Working with their music teacher, Ben Arvan, and the Morgan's Assistant Manager of School Programs, Ann Bell, students participated in a modified version of the Project that connected to one of Morgan's spring special exhibitions, Woody Guthrie: People Are the Song. Students learned about Guthrie's unique contributions to folk music and explored his visual artworks. Inspired by these and Guthrie's Martin guitar, inscribed with his famous line, "This machine kills fascists", they chose one of his song lyrics and created their own two-dimensional guitar artwork.
Additionally, Arvan set the words of two award-winning books to music and performed the new songs at the 2022 Awards Ceremony. These manuscripts, Ian's Big Dream by Sofia Baten and How to Do a Push-Up by Antonio Johnson are on view in the current exhibition.
The Morgan Book Project is a free annual extended learning program. Applications are open through July 15, 2022 for the 2022–23 school year. For more information, or to apply, please visit this page.
The Morgan's education programs are generously supported by Marina Kellen French and the Anna-Maria and Stephen Kellen Foundation, Con Edison, MetLife Foundation, the C. Jay Moorhead Foundation, the Filomen M. D'Agostino Foundation, The Milton and Sally Avery Arts Foundation, the May and Samuel Rudin Family Foundation, Inc., and by the following endowed funds: The Alice Tully Fund for Art and Music; the William Randolph Hearst Fund for Educational Programs; the Stavros Niarchos Foundation Fund for Education and Technology; and the Herbert and Ann Lucas Fund.
The Morgan Book Project is made possible by a generous grant from Marina Kellen French and the Anna-Maria and Stephen Kellen Foundation.