April 18 through August 10, 2008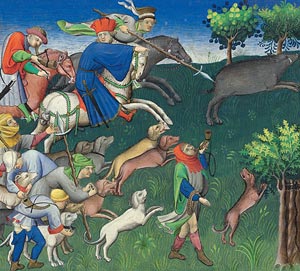 Illuminating the Medieval Hunt features nearly fifty miniatures from the Morgan's celebrated hunting manuscript by Gaston Phoebus (1331–1391), Le Livre de la chasse (Paris, ca. 1407). Since the manuscript was disbound—for reasons of conservation and the preparation of a facsimile—the exhibition provides a unique opportunity for the public to "walk" through the manuscript as well as to turn the pages of the facsimile. The miniatures illustrate the four books of the treatise, which deal with gentle and wild animals, the nature and care of dogs, instructions on hunting with dogs, and the use of various snares and crossbows by hunters.
A rare first edition of Le Livre de la chasse (ca. 1507) is also on view as well as the Book of St. Albans, the first English book (1486) on hunting. In addition, a dozen manuscripts illustrate how the medieval hunt was used as a metaphor in both sacred and profane texts. To show that the noble hunt was not limited to Europe, the exhibition ends with six examples of Islamic and Indian origin.
Illuminating the Medieval Hunt is made possible by a generous gift from Melvin R. Seiden and by the Janine Luke and Melvin R. Seiden Fund for Exhibitions and Publications.
Faksimile Verlag Luzern is the corporate sponsor.