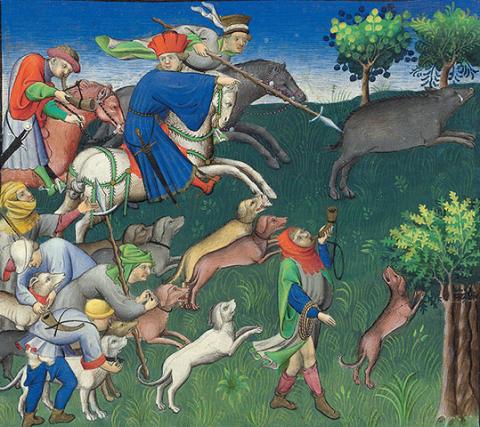 The Morgan's lavishly illustrated Phoebus was made in Paris about 1407, as was one in the Bibliothèque nationale de France. Of the forty-six surviving Phoebus manuscripts, these two are the most magnificent. This presentation includes forty-five images from Phoebus and five other images depicting the noble hunt.
Hunting was an important part of medieval life; kings and noblemen were expected to excel and take pleasure in the pursuit. Some famous hunters wrote books on the subject, whereas others collected and commissioned them. Three of the most popular French treatises were written during the fourteenth century, but others were also written in Spanish, English, and German.
Gaston III, Count of Foix (1331–1391), called Phoebus on account of his golden hair or handsome features, wrote his hunting book late in life (1387–89), sharing his knowledge in a field in which he claimed supremacy, unlike in his two other pleasures in life, arms and love. The work, dedicated to his fellow hunter and warrior Philip the Bold (1342–1404), Duke of Burgundy, comprises four books: On Gentle and Wild Beasts, On the Nature and Care of Dogs, On Instructions for Hunting with Dogs, and On Hunting with Traps, Snares, and Crossbow.
This manuscript may have been commissioned by Philip the Bold's son, John the Fearless (1371–1419), as a gift for Louis d'Orléans (1372–1407). If so, it would date before 23 November 1407, when Louis was assassinated in Paris. Years later it fell into the hands of a duke of Brittany, probably Francis II (r. 1458–88), who added his arms on folio 4. Before 1492 it was acquired by Ferdinand and Isabella of Spain, who added their magnificent full-page arms to the book (folio 1v).
In 1928 Dr. Rosenbach of Philadelphia bought the book from Thomas Fenwick, heir of Sir Thomas Phillipps, the "vellomaniac,", for £10,000 and offered it to J. P. Morgan, Jr., at the special price of $165,000, which Morgan declined. There is no evidence that Fenwick ever offered it to Pierpont Morgan, but Morgan might well have been interested. Morgan was a breeder of collies, and in 1893 he entered ten collies in the Westminster Kennel Club Dog Show at Madison Square Garden, winning the silver cup for the best collie, Sefton Hero.
The book remained unsold until 1943, when Rosenbach sold it to Clara S. Peck, who was a breeder and rider of horses, for $65,000. Three years later she lent it to the Morgan for an exhibition on Sports and Pastime. Thereafter, through the continued efforts of the Morgan's first three directors, Peck decided to bequeath it to the Morgan, which she did on 20 April 1983.
This exhibition is made possible by a generous gift from Melvin R. Seiden and by the Janine Luke and Melvin R. Seiden Fund for Exhibitions and Publications.
Faksimile Verlag Luzern is the corporate sponsor.