October 2, 2009, through January 10, 2010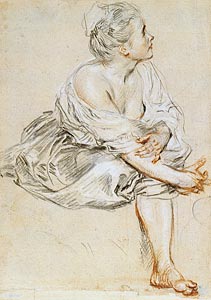 Rococo and Revolution: Eighteenth-Century French Drawings features more than eighty exceptional drawings almost exclusively from the Morgan's renowned holdings. The efflorescence of the ancien régime and its eventual downfall provide the backdrop to a century of remarkable artistic vitality and variety that subtly chronicles the many changes taking place in eighteenth-century France. Artists represented in the exhibition include among others Antoine Watteau, Jacques-Louis David, François Boucher, Jean-Honoré Fragonard, Claude Gillot, Nicolas Lancret, Hubert Robert, Pierre-Paul Prud'hon, Anne-Louis Girodet, and Pierre-Narcisse Guérin.
The royal court and wealthy Parisian merchants defined the artistic sensibility of the early decades of the century. This exuberant style, called rococo, eventually assimilated the burgeoning classicism of the Enlightenment. Later, a more formally austere Neoclassicism developed with the triumph of "reason" and the stirrings of the Revolution.
The Rococo initially flourished during the waning years of Louis XIV's reign (r. 1661–1715) and serves as a starting point for the exhibition. Works by artists active at the French Academy in Rome during its greatest years, coinciding with the rule of Louis XV (r. 1715–1774), document the robust role of drawing in artistic practice during mid-century. The exhibition concludes with works executed during the last decades of the ancien régime, under Louis XVI (r. 1774–1792), and the onset of the Revolution, as artists embraced the rigorous Neoclassical style. Contextually, the exhibition also touches on developments and changes in patronage, fashion, theater, and literature in Paris at this time.
This exhibition is made possible by a generous gift from an anonymous donor. Additional support is provided by Nancy Schwartz, Mr. and Mrs. James M. Vaughn, Jr., and Stephen A. Geiger.