June 16 through October 22, 2023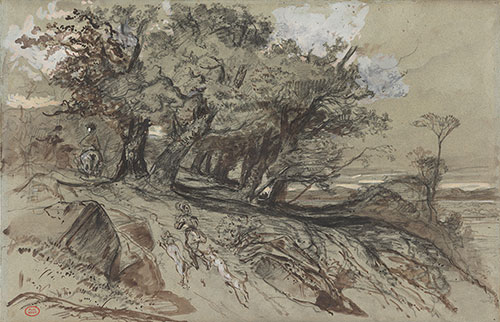 The Morgan Library & Museum celebrates the gift of more than 130 drawings and photographs from the collection of Karen B. Cohen with the exhibition Into the Woods: Drawings and Photographs from the Karen B. Cohen Gift. Combining objects from Cohen's generous gift with related examples from the Morgan's collection, this selection of over fifty works on paper by French nineteenth-century artists will explore new approaches to the rural landscape and its inhabitants and help define the role artists played in defining a modern relationship to nature.
The development of portable equipment, the expansion of the railway system, and the technical innovation of photography all helped reshape artists' relationship with nature in the nineteenth century. This exhibition asks how painters, draftsmen, and photographers approached the traditional subject of landscape and scenes of rural life in new ways. Steeped in the pictorial tradition of their predecessors, including the great seventeenth-century Dutch landscape artists Jacob van Ruisdael and Rembrandt, French artists reinvigorated the genre with their commitment to naturalism. They discovered new effects through the use of a wide range of media, from charcoal to photography. A focus on rural laborers, and women in particular, led to some of the first empathetic—and least romanticized—depictions of the rural working class. Additionally, spending extended time in the wild inspired artists to campaign for its preservation, and part of the Fontainebleau forest was made an official nature preserve in 1861.