September 27, 2013, through January 5, 2014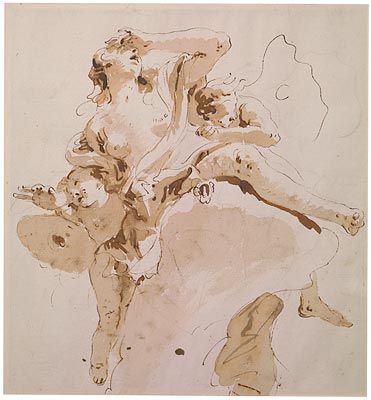 The Morgan's collection of eighteenth-century Venetian drawings is among the world's finest, with more than 300 sheets by renowned masters Giambattista Tiepolo (1696–1770) and his son Domenico (1726–1804). Drawn entirely from the museum's holdings, Tiepolo, Guardi, and Their World features a selection of more than one hundred works on paper and chronicles the vitality and originality of drawing during Venice's second Golden Age.
The eighteenth century saw the resurgence of the legendary maritime city as a center for international arts patronage. Venice was home to several flourishing family workshops and commissions from the church, the nobility, the bourgeoisie, and foreign travelers ensured the fame of her artists. The exceptional creativity of Venetian masters is seen in Giambattista Tiepolo's luminous wash studies for frescoed ceilings and painted figures, views of Venice and architectural capricci by Francesco Guardi and Canaletto, early designs executed by Giovanni Piranesi during his formative years in the city, and Domenico Tiepolo's humorous Scenes from Contemporary Life and theatrical vignettes depicting the comic character Punchinello.
Tiepolo, Guardi, and Their World: Eighteenth-Century Venetian Drawings is generously supported by the Sherman Fairchild Fund for Exhibitions, and by Kasper and Mr. and Mrs. Clement C. Moore II.