January 24 through August 16, 2020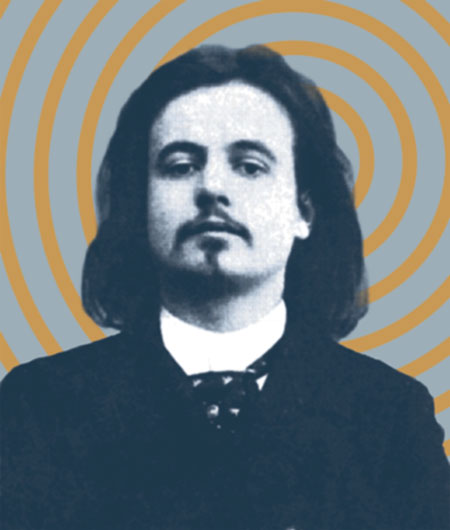 The subversive works and personality of the French writer Alfred Jarry (1873–1907) played a crucial role in the transition from the nineteenth-century avant-garde to the emergent modernist movements of the early twentieth century. An inspiration for Dada and Surrealism and a touchstone for the Theatre of the Absurd, Jarry is most renowned for his play Ubu roi and the legend of its sensational premiere in 1896. To his contemporaries, however—figures such as Paul Gauguin, Henri Rousseau, Oscar Wilde, and Guillaume Apollinaire—Jarry's prestige extended beyond theater. He applied his genius to poetry, the novel, and operettas; he was a graphic artist, an actor, a puppeteer, a critic, and the inventor of an imaginary science called pataphysics. For Jarry, engagements with technology, popular imagery, and the performance of everyday life could constitute works of art.
Some of the many ideas and innovations he brought to multiple mediums also found expression in his maverick book and magazine designs. Jarry was one of the first writers to experiment with visual typography. His concept of authorship and unorthodox approach to illustration, employing anachronism, assembling, collage, and appropriation, anticipated practices at play in modern and contemporary artists' publications. By exploring his enterprises in print, this exhibition contributes to an ever-broadening appreciation of Jarry's role in the radical upheaval in the arts more than a century ago.
Alfred Jarry: The Carnival of Being celebrates the generous gift to the Morgan Library & Museum of the books and manuscripts from the Robert J. and Linda Klieger Stillman Pataphysics Collection.
Alfred Jarry: The Carnival of Being is organized by The Morgan Library & Museum and curated by Sheelagh Bevan, Andrew W. Mellon Associate Curator of Printed Books and Bindings.
The exhibition is made possible by major support from Beatrice Stern, the Sherman Fairchild Fund for Exhibitions, Robert J. and Linda Klieger Stillman, and the Franklin Jasper Walls Lecture Fund.
Publication: