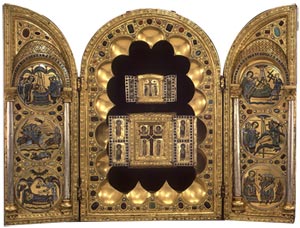 The Metropolitan Museum of Art had on display seven superb examples of medieval art from the Morgan Library. These objects were on view in the Tapestry Hall while the Morgan proceeded with its expansion project. The long-term loans include some of the favorite works of the noted financier and collector Pierpont Morgan (1837–1913), a past president of The Metropolitan Museum of Art. After Morgan's death, nearly seven thousand paintings, sculptures, and decorative objects from his astonishing collection were given to the Metropolitan, while his private library and its contents—illuminated, literary, and historical manuscripts, early printed books, and old master drawings and prints—became The Pierpont Morgan Library. Having orginated in the 1906 structure built by McKim, Mead & White to serve as Pierpont Morgan's private library, the public institution now known as The Morgan Library & Museum was founded in 1924. It embarked on a three-year capital project that was completed in spring 2006.
"J. Pierpont Morgan was certainly the greatest collector of medieval art this country has known," commented Peter Barnet, the Metropolitan Museum's Michel David-Weill Curator in Charge of Medieval Art and The Cloisters. "We are particularly pleased to show so many of the important works he prized, and to do so in the Medieval Tapestry Hall, where they will be surrounded by other medieval sculptures and decorative works from his collection. For the duration of the loan, rare and sumptuous works that are usually shown in the setting of Mr. Morgan's private study may be enjoyed in a very different way at the Metropolitan."
The splendid twelfth-century Stavelot Triptych (from the Abbey of Stavelot in Belgium) was one of the highlights. Originally intended to hold relic fragments of the True Cross, this celebrated object is one of the outstanding masterpieces of medieval goldsmithing, incorporating champlevé enamel, silver, and precious stones in a deluxe setting. The relic of the True Cross is held in a small Byzantine triptych—made of cloisonné enamel on gold—that is the centerpiece of the larger triptych.
The gold and jeweled binding of the Lindau Gospels—one of the Morgan's most important acquisitions—is unparalleled in this country. The dazzling upper cover was created in the court workshop of Emperor Charles the Bald (840–877), grandson of Charlemagne, and incorporates finely worked gold, star sapphires, garnets, emeralds, and other stones. Scholars believe that the architecture of the frame may allude to the jeweled city of the Heavenly Jerusalem. The exquisite lower cover, made in a German workshop, includes champlevé enamel, silver gilt, topaz, and garnets.
The other works on loan were the fourteenth-century portable shrine of Cardinal Bazin, the late-thirteenth-century Klosterneuberg Ciborium, the thirteenth-century silver gilt relief of a king from Bourges, the highly ornamented twelfth-century Malmesbury Ciborium, and the Eucharistic casket from Lichtenthal.
The Metropolitan Museum of Art
1000 Fifth Avenue at 82 Street
New York, NY 10028-0198
(212) 535-7710
www.metmuseum.org