November 6, 2009, through March 14, 2010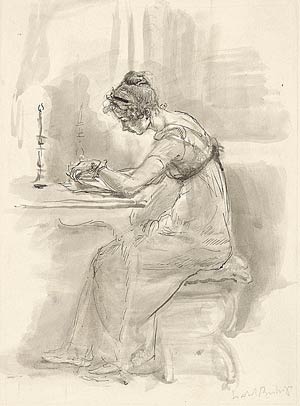 This exhibition explores the life, work, and legacy of Jane Austen (1775–1817), regarded as one of the greatest English novelists. Offering a close-up portrait of the iconic British author, whose popularity has surged over the last two decades with numerous motion picture and television adaptations of her work, the show provides tangible intimacy with Austen through the presentation of more than 100 works, including her manuscripts, personal letters, and related materials, many of which the Morgan has not exhibited in over a quarter century.
A Woman's Wit: Jane Austen's Life and Legacy also includes first and early illustrated editions of Austen's novels, as well as drawings and prints depicting people, places, and events of biographical significance. A highlight of the exhibition is a specially commissioned film by the noted Italian director Francesco Carrozzini, featuring interviews with artists and scholars such as Siri Hustvedt, Fran Lebowitz, Sandy Lerner, Colm Tóibín, Harriet Walter, and Cornel West.
The exhibition is organized into three sections: Austen's life and personal letters, her works, and her legacy; it concludes with the documentary-style film.
Only a relatively small number of Austen's personal letters have survived. The Morgan is a major repository of her correspondence, with one-third of all surviving letters held in the department of Literary and Historical Manuscripts. These materials—from correspondence to her beloved sister, Cassandra, to a letter to her niece in which all the words are spelled backwards, to "crossed letters" (also known as "cross-hatching," in which Austen, to save paper and reduce postal charges, wrote across the horizontal lines of text at right angles)—offer a remarkable glimpse into Austen's everyday life and relationships, as told in her characteristically witty and confident voice. Some highlights include a letter dated 2 June 1799 to her sister, which includes a drawing of the lace pattern of her cloak, and a letter dated 20 July 1817, written by Cassandra to Fanny Knight, Austen's beloved niece, reporting Austen's death: "I have lost a treasure, such a Sister, such a friend as never can have been surpassed."
Drawings and prints of people, places, and events of importance in Austen's life and times provide visual context for the letters. On view is a Portrait of Mrs. Q (Mrs. Harriet Quentin) by William Blake. Upon seeing this portrait in London, Austen remarked that this was just as she imagined Mrs. Bingley (Jane Bennet, who marries Charles Bingley at the conclusion of Pride and Prejudice). There are also numerous prints by James Gillray (1757–1815), an influential printmaker and social satirist, who touched on many of the same subjects and themes found in his illustrious contemporary's letters and novels, including women's fashions, marriage, and social rank.
The section on Austen's works includes the autograph manuscript of Lady Susan (rewritten ca. 1805), the only surviving complete manuscript of any of her novels. Also included in the exhibition is an unfinished autograph manuscript of The Watsons (ca. 1805), which remained unfinished and is the only surviving manuscript of Austen's novels showing her work in progress and under revision. Also on view is an autograph note by Austen, listing the date of composition of her novels Mansfield Park, Persuasion, and Emma. Another note lists the profits of her novels.
The exhibition also incorporates rare books and manuscripts from the Morgan's collections by authors who influenced Austen, including Fanny Burney, William Cowper, Samuel Richardson, and Lord Byron. After reading Byron's poem The Corsair: A Tale, Austen wrote in a letter to her sister, "I have read The Corsair, mended my petticoat, and have nothing else to do." The legacy of Jane Austen is examined through later writers' responses to her work. Beginning with a diary entry by her contemporary Sir Walter Scott, the exhibition also features comments by twentieth-century writers, including Vladimir Nabokov, William Butler Yeats, and Rudyard Kipling.
The influence and popularity of Jane Austen is also examined through the film at the conclusion of the exhibition. It features interviews about Austen with an eclectic group of artists and scholars.
The exhibition is organized by Declan Kiely, Robert H. Taylor Curator, and Clara Drummond, Assistant Curator, Literary and Historical Manuscripts, The Morgan Library & Museum.
A Woman's Wit: Jane Austen's Life and Legacy is generously supported by the Laurence Levine Charitable Fund, Inc. and Sir Thomas R. Moore, with the assistance of Nancy P. Aronson.