October 13, 2006, through January 7, 2007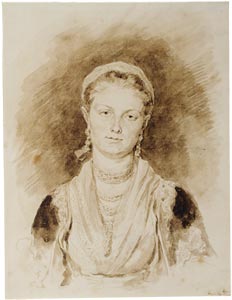 A favorite artist of Pierpont Morgan, Jean-Honoré Fragonard (1732–1806) is well represented among the drawings in the collection formed by Charles Fairfax Murray, which Morgan acquired in 1909. Fragonard has remained popular among later collectors as well, and The Morgan Library & Museum has an outstanding group of his works. The year 2006 marks the two-hundredth anniversary of Fragonard's death and provided an opportunity to reexamine his drawings in relation to those of his contemporaries. Fragonard and the French Tradition celebrated the artist's brilliant accomplishments as a draftsman in the context of the prevailing currents of eighteenth-century French art.
Through a selection of approximately forty drawings taken almost entirely from the Morgan's collection, Fragonard and the French Tradition chronicled how Fragonard emerged from the academic tradition of his mentors François Boucher (1703–1770) and Charles-Joseph Natoire (1700–1777) to establish himself as an artist with a distinct style of drawing and a highly individual choice of subject matter. The juxtaposition of Fragonard's drawings with those by his contemporaries, especially Hubert Robert (1733–1808), reveals the artist's independent approach to nature, portraiture, and historical subjects. His individualism becomes even more evident through contrast with sheets by his most earnest follower, François-André Vincent (1746–1816), whose drawings show both the appeal and inimitable quality of Fragonard's style. Drawings by Jean-Baptiste Greuze (1725–1805), which reflect the emerging trend of emotionally charged genre scenes, and Jacques-Louis David (1748–1825), which mark the rise of neoclassicism, demonstrated the shift in popular taste away from Fragonard on the eve of the French Revolution.