April 29, 2006 through April 14, 2013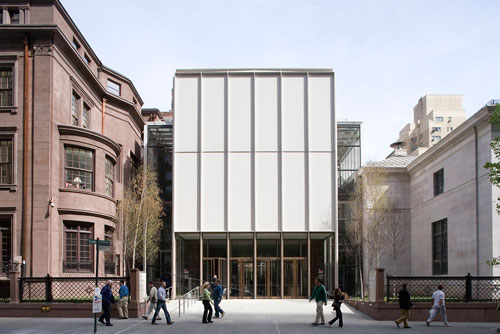 The Morgan expansion project is the subject of a special exhibition that begins with a historical survey of the site from the 1850s through today. The expansion project is represented by drawings, models, and photographs.
The exhibition is organized by The Morgan Library & Museum and the Renzo Piano Building Workshop and features materials from the conceptual design phase to the finished scheme.
The Renzo Piano Building Workshop's project for the Morgan follows an exceptional architectural legacy. The original library, designed by Charles McKim and opened for Pierpont Morgan's personal use a hundred years ago, is an American Renaissance icon. Of the numerous structures that once stood on the site now occupied by the Morgan, three remain: the Morgan house, the 1928 Annex, and McKim's masterpiece. Renzo Piano reckoned with these three landmarks as he brought practical and pleasing coherence to the complex. This installation is in three parts. The development of the Morgan's current property is traced from its beginning in the 1850s. It is not a static building history. Structures were put up, added to, altered, demolished—whatever their owners deemed necessary or desirable. The second part examines how Renzo Piano realized the Morgan's institutional goals and rationalized and developed the complex that he first encountered in 2000. The final section examines aspects of design development, and images of finished work link architectural drawings to completed construction.