May 30 through September 7, 2014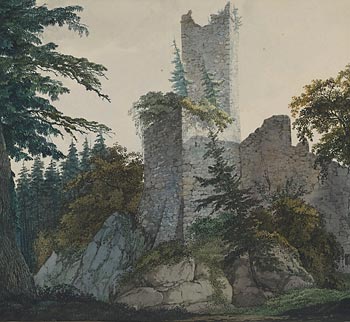 Organized by the Morgan and London's Courtauld Gallery, A Dialogue with Nature explores aspects of Romantic landscape drawing in Britain and Germany from the 1760s to 1840s. The exhibition draws upon the strengths of both collections—the Morgan's exceptional group of German drawings and the Courtauld Gallery's extensive holdings of British works—in order to consider points of commonality and divergence between the two distinctive schools. Taken together, these drawings exemplify Caspar David Friedrich's understanding of Romantic landscape draftsmanship as "a dialogue with Nature."
The exhibition includes thirty-seven works that represent the two central elements of the Romantic conception of landscape: close observation of the natural world and the importance of the imagination. On view are works by such celebrated artists as Thomas Gainsborough, J.M.W. Turner, Caspar David Friedrich, John Constable, Franz Kobell, Paul Sandby, Joseph Anton Koch, J. C. Dahl, and Samuel Palmer.
This exhibition is a program of the Drawing Institute at the Morgan Library & Museum. Additional support is provided by the Rita Markus Fund for Exhibitions and Lowell Libson Ltd.
Publication: