September 28, 2000, through January 7, 2001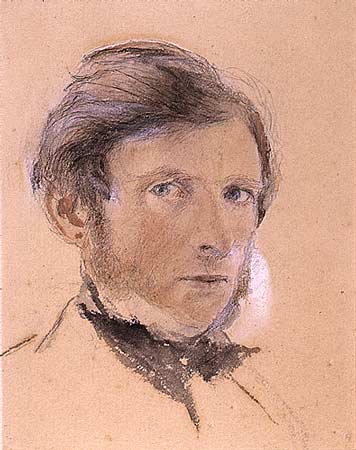 The year 2001 marked the centenary of the death of one of the most commanding figures of the Victorian age, John Ruskin (1819–1900). Nineteenth-century England's most influential critic, he not only directed taste for art of the past but also determined its contemporary direction. Ruskin was a leader of the Gothic Revival movement in architecture and a fervent commentator on the social, economic, and environmental ills of the day. Additionally, he was one of the great masters of English prose.
Ruskin's unconsummated marriage to Euphemia ("Effie") Chalmers Gray was a public scandal. His upbringing, religious doubts, emotional attachments, and bouts of madness were closely intertwined with his work. The exhibition examined his life through letters, diaries, photographs, and other documents.
Drawn from the Morgan's Ruskin collections, among the world's most comprehensive, the exhibition explored his sweeping impact through drawings, sketchbooks, manuscripts, books, pamphlets, and other objects by Ruskin and his contemporaries, including Kate Greenaway, John Everett Millais, and J. M. W. Turner.
Among the highlights of the exhibition were Ruskin's original manuscripts of his two most important works, The Stones of Venice (1851–53) and Modern Painters (1843–60), acquired by Pierpont Morgan in 1906 and 1907. The exhibition conveyed Ruskin's critical style, as well as his commentary, alongside representative works by William Henry Hunt, Samuel Prout, and other artists whose work he examined. His meticulous drawings of San Marco, the Ducal Palace, and other buildings, executed in situ, along with photographs he commissioned, represented Ruskin's Venice. Manuscripts and printed editions of The Seven Lamps of Architecture (1848), Praeterita (1885–89), and The Storm-Cloud of the Nineteenth Century (1884) also were included. Drawings and watercolors included his Self-Portrait with Blue Neckcloth (1873) and works of other artists whom he championed, including Turner's watercolor The Pass at Faido, St. Gotthard (ca. 1845).
See more about Ruskin and British drawings and watercolors in the online exhibition Gainsborough to Ruskin: British Landscape Drawings and Watercolors in the Morgan Library.
This exhibition has been funded by The Fay Elliott Foundation. Hank Walter contributed special media support.