March 27 through December 9, 2018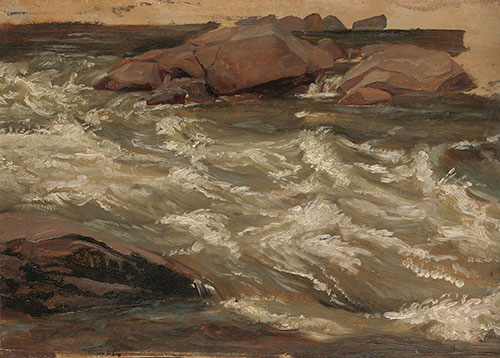 By the start of the nineteenth century, the practice of using oil paint on paper while working outdoors became standard practice among landscape artists. Studies of water emerged as a recurrent motif for painters. In all its guises—rivers, streams, fountains, torrents, and waterfalls—water posed a challenge for artists learning to capture light, color, and texture in oils. Vast landscapes offered the opportunity for prolonged study, while rushing water encouraged artists to grapple with depicting movement and the ephemeral effects of light and atmosphere. 
Artists often worked quickly to capture fleeting effects and developed innovative approaches to convey light and texture. These riverine scenes illustrate the many facets of depicting water, from the placid flow of the Rhine to rugged mountain scenes with thundering waterfalls. The effort of journeying into untamed nature and discovering these motifs added to the intrepid nature of the enterprise.
Featured in this selection are works by artists from France, Denmark, Switzerland, Germany, and Britain. Rivers and Torrents highlights works from the collection of oil sketches given jointly to the Morgan and to the Metropolitan Museum of Art in 2009 and 2016 by Eugene V. Thaw and his wife, Clare.