February 25, 2020 to February 14, 2021
The Morgan is home to some of the world's finest collections of medieval manuscripts, literary and historical manuscripts, printed books and bindings, letters, and autograph music manuscripts. In addition to the continuing installation of the first printed book, known as The Gutenberg Bible, a rotating selection of objects from four curatorial departments is always on display in the sumptuous setting of J. Pierpont Morgan's Library.
Featured items in the current rotation include an illuminated vellum leaf commissioned as a lover's gift, depicting a man and woman with hands clasped and holding a heart. Such tokens, used to affirm a lover's affection in their absence, became popular in the late sixteenth century. Other examples of medieval and renaissance manuscripts on view include a classic epic known as the Khamsa by the twelfth-century Persian Sunni Muslim poet Niẓāmī Ganjavī, as well as an illuminated miniature in a Book of Hours depicting St. Veronica holding up a piece of cloth with an image of Christ. Correspondence on view, ranging in date from 1669 to 1955, includes a letter from Charlotte French Despard (1844–1939) exhorting her friend Anne Cobden-Sanderson in 1910 to keep up the "courage, faith, and great hope" for Democracy and the cause of women's suffrage, written in the wake of a protest calling for a woman's right to vote. Visitors can also see a manuscript of a story by Edgar Allen Poe and a letter from the Black artist and educator Hale Woodruff (1900–1980). Woodruff uses both words and images to explain how essential African art had been to the modernist break with traditional forms, exemplified by early twentieth-century artists such as Pablo Picasso.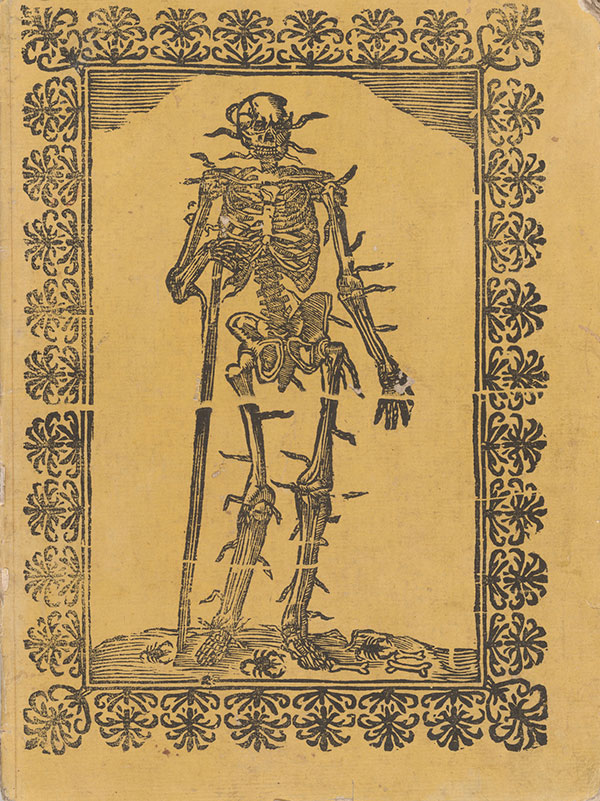 A rare example of illustrated paper-bound covers from the eighteenth century is among the selection of printed books. Like modern dust jackets, the image on the cover of a large skeleton serves as an advertisement for the book's content: in this case, the Latin text for a funeral Mass. Its symbolic meaning functions as a memento mori ("remember [that you have to] die")—a fitting reminder for readers of the impermanence of life. A memoir celebrating life by the avant-garde writer and performer Claude Cahun (1894–1954), born Lucy Schwob, explores the multiplicities of identity and gender representation in Disavowals (1930). Her autobiography takes the form of a series of prose poems and surrealistic photomontages, using self-portraiture in ways that anticipate the work of contemporary artists such as Cindy Sherman.  Other highlights in print include a modest quarto of Shakespeare's King Lear (1619) and the small-press first edition of For Colored Girls Who Have Considered Suicide / When the Rainbow Is Enuf by Ntozake Shange (1948–2018). 
Musical highlights in the current rotation feature Mozart's Piano Concerto no. 21 in C Major and the manuscript for a song by Richard Wagner (1813–1883), set to a poem by Victor Hugo (1802–1885). Poetry was also the basis for Felix Mendelssohn's opus 27, Meeresstille und glückliche Fahrt (Calm Sea and Prosperous Voyage), which was inspired by two poems by Goethe. Unlike Wagner, however, Mendelssohn did not set music to the text itself but expressed its meaning through sound alone.
Treasures from the Vault is funded in perpetuity in memory of Christopher Lightfoot Walker.