January 23 through May 17, 2015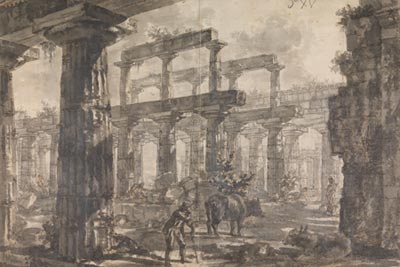 In 1777 the great Italian draftsman, etcher, and antiquarian Giovanni Battista Piranesi visited the haunting and majestic archaeological site of Paestum on the Gulf of Salerno south of Naples. He produced a series of monumental drawings recording the three Doric temples—then known as the Basilica, the Temple of Neptune, and the Temple of Ceres—in preparation for a set of etchings, Différents vues de Pesto. Piranesi died shortly after receiving the papal imprimatur in 1778, but the set was completed by his son, Francesco, and published posthumously in the same year. In 1817 the English architect Sir John Soane, who had met Piranesi in Rome shortly before the artist's death, acquired fifteen of the seventeen surviving Paestum drawings. Preserved at Sir John Soane's Museum in London, Piranesi's drawings have only recently been restored and are being shown here for the first time in the United States.
The exhibition is made possible through the generosity of the Gilbert and Ildiko Butler Family Foundation.
Organized by Sir John Soane's Museum, London, with the Morgan Library & Museum, New York.
Publication: