May 20 through September 4, 2011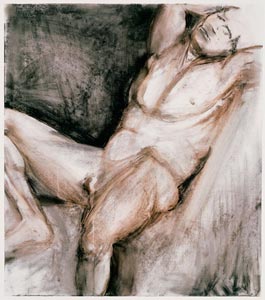 Painter, sculptor, poet, and draftsman, Jim Dine (American, born 1935) began his career in the early 1960s participating in happenings and the Pop Art movement. In the 1970s, draftsmanship became central to his practice, and in the 1980s he began a sustained series of drawings based on ancient sculpture.
In 1984 when Jim Dine first visited Munich's Glyptothek, a museum dedicated to antique sculpture, he was compelled to create a book of prints to house, in his own words, "my Glyptothek." In preparation for the prints he created a series of forty drawings known as the Glyptotek Drawings.* Drawn from the Greek and Roman sculpture in Munich as well as other museum collections, the entire suite forms a single work. "I think each individual drawing could stand alone," Dine has said, "but as a single work, all forty make a narrative about learning from the Ancient World."
Jim Dine: The Glyptotek Drawings explores Dine's meditation on the antique world. The exhibition presents the forty drawings, the resulting book of prints based on them, and a number of related works, all promised gifts of the artist to the Morgan. Rich in imagery and visual appeal, this important group is representative of Dine's skillful union of traditional subject matter and modern drawing technique.
*The artist prefers this spelling for his work.
This exhibition is supported in part by a generous gift from Nancy Schwartz, with additional assistance from Richard Gray and The Gray Collection Trust, The Pace Gallery, and Pace Prints.