June 6 through September 8, 2002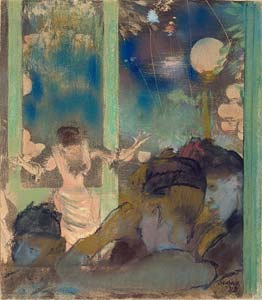 David to Cézanne: Nineteenth-Century French Drawings was the Morgan's first large-scale exhibition of French nineteenth-century drawings from its holdings. In 1986 it mounted an exhibition of French drawings from this period. Although it was modest in size—comprising about forty works—the presentation was well received by the press and public alike. Since then, largely because of the promised gift of the Thaw Collection, this aspect of the Morgan's collection of drawings grew considerably and in 2002 encompassed more than three hundred.
Over one hundred drawings from the Morgan, as well as from private collections, were on view. The exhibition began with a few examples by eighteenth-century artists, such as Jacques-Louis David, Girodet, Pierre-Narcisse Guérin, and Pierre Paul Prud'hon, whose artistic sensibilities anticipate the major trends of nineteenth-century French art. While the exhibition featured the work of two nineteenth-century exponents of neoclassicism and romanticism—Ferdinand Eugène Victor Delacroix and Jean Auguste Dominique Ingres—it also included an extensive representation of the work of Hilaire-Germain-Edgar Degas, as well as examples of later Impressionist and Symbolist painters, such as Paul Cézanne, Edouard Manet, Odilon Redon, Pierre-Auguste Renoir, and Georges Seurat.
David to Cézanne: Nineteenth-Century French Drawings is made possible by a bequest from Lore Heinemann and by Janine Luke and Melvin R. Seiden, with additional assistance from the Thaw Charitable Trust. The exhibition is dedicated to the memory of Lore Heinemann.