February 11, 2022 through October 23, 2022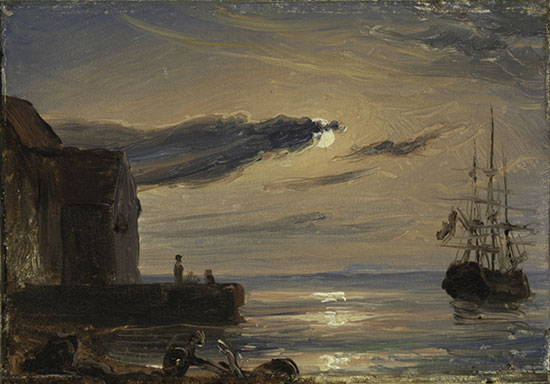 The nineteenth century in Europe saw the rise of plein air painting, in which artists used oil paint while working outdoors. This practice led many painters to concentrate not merely on the features of the landscape but also on the subtle atmospheric changes typical of daybreak and nightfall. The transient effects of light were further amplified when painters set out to capture the reflective, amorphous quality of water. Marine studies became an apt motif for Romantic-era artists who sought to trigger an emotional response in viewers through the awe-inspiring, limitless potential of rivers and oceans. Paintings of daybreak and nightfall were also sometimes understood to evoke the human life cycle.
This display brings together plein air marine studies by Norwegian, French, Danish, and German artists. Rather than follow a chronological or geographic order, the works are arranged by time of day, illustrating the varying effects of light on water—from the sunlight at dawn through the scintillating glow of moonlight at dusk.
Dawn till Dusk highlights works from the collection of oil sketches given jointly to the Morgan and the Metropolitan Museum of Art by Trustee Eugene V. Thaw.