June 20, 2014 through August 23, 2015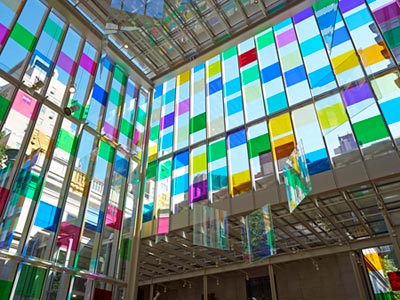 American artist Spencer Finch (b. 1962) has created a large-scale, site-specific installation at the Morgan inspired by its great collection of medieval Books of Hours—beautiful, hand-painted works that served as personal prayer books for different times of the day and different periods of the year. Taking advantage of the Morgan's four-story, glass-enclosed Gilbert Court, Finch applied films of color to the windows and hung additional glass panes in the center of the court to make a kind of calendar based on the movement of the sun.
Finch grouped the panes of glass by month with each having a palette that suggests the time of the year. For example, November is harvest time, and the month's colors are those of ripe grains and produce. The installation also indicates what the artist calls "red-letter days." Red-colored glass aligns with the sun's arc across Gilbert Court at noon on secular holidays that the artist considers significant, such as Sir Isaac Newton's birthday on January 4. The precise measurements required to create the installation at the Morgan are a hallmark of Finch's work. At the same time, his installations emphasize movement and change, capturing fleeting moments of sublime beauty.
This exhibition was made possible in part by a gift from Susanna and Livio Borghese in honor of Parker Gilbert and in appreciation of his many contributions to the Morgan Library & Museum. Additional generous support came from Mickey Cartin; the Charles E. Pierce, Jr., Fund for Exhibitions; James Cohan Gallery; Christopher Scholz and Inés Elskop; Nancy Schwartz; and Rhona Hoffman Gallery, Chicago.