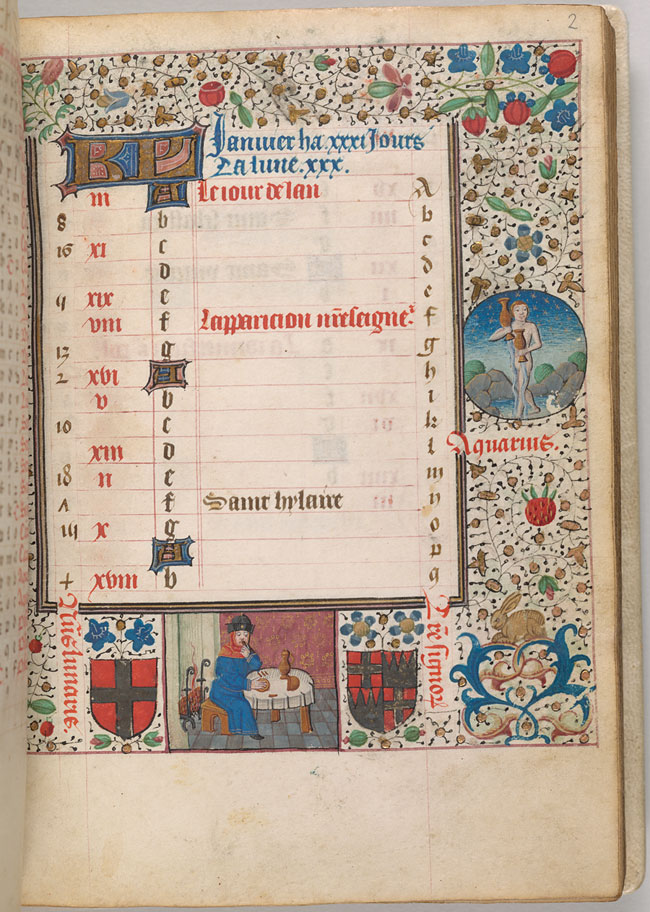 Hours of Pierre de Bosredont
Gift of the Trustees of the William S. Glazier Collection, 1984
Description:
Zodiac Sign: Aquarius In a medallion in the right margin, Aquarius stands in a stream pouring water from vases, one held in each hand.
Month, Occupation: January In a vignette in the lower margin is a man wearing a hood and hat, holding his right hand to his lips, and seated with his back to a fire on a bench at a draped table on which is a covered vessel, a loaf (?), and knives (?). The vignette is flanked by two heraldric shields, one of the Knights of Rhodes (gules, a cross argent) and the other incorporating the Knights of Rhodes (quarterly, 1 and 4 gules, a cross argent, 2 and 3 argent, a chief dancettee gules).
The margins are decorated with foliate and floreate ornament, including a strawberry inhabited by a rabbit.