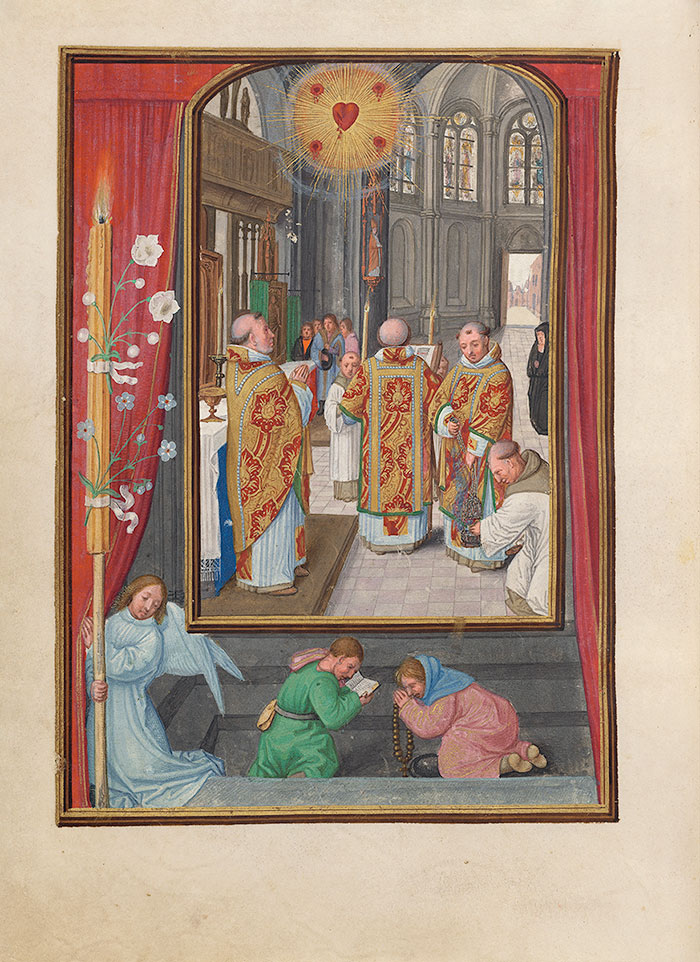 Da Costa hours
Illuminated by Simon Bening (1483/84–1561)
Purchased by J. Pierpont Morgan (1837–1913), 1910
Description:
Liturgical scene: Celebration of Mass—A bleeding heart surrounded by four bleeding wounds (Five Wounds of Christ) appears amid rays of light above figures celebrating mass within a church. A tonsured priest wearing a chasuble stands beside an altar and raises his joined hands. He turns toward a tonsured deacon wearing a dalmatic. The deacon's back is turned, and he is reading from a book on a lectern. In front of the lectern are two acolytes holding candles. A second deacon holds a thurible as a kneeling acolyte fills it with incense. Beyond, a group of figures stands behind an altar surmounted by a retable and flanked by curtains. To the right, a hooded figure stands with joined hands raised. The church is adorned with stained glass and statues, including one of the Crucifixion with the Virgin Mary and Evangelist John in a balcony and a statue of a mitered bishop in an architectural niche on the wall. The door of the church is open showing a view of city.
The miniature is framed by a border in which an angel is pulling back a curtain and holding a lit paschal candle decorated with flowers. To the right and below, a man and woman are kneeling in prayer. He holds a book in both hands, and she holds a rosary in joined, raised hands.
Credits:
Image courtesy of Akademische Druck- u. Verlagsanstalt, Graz/Austria.