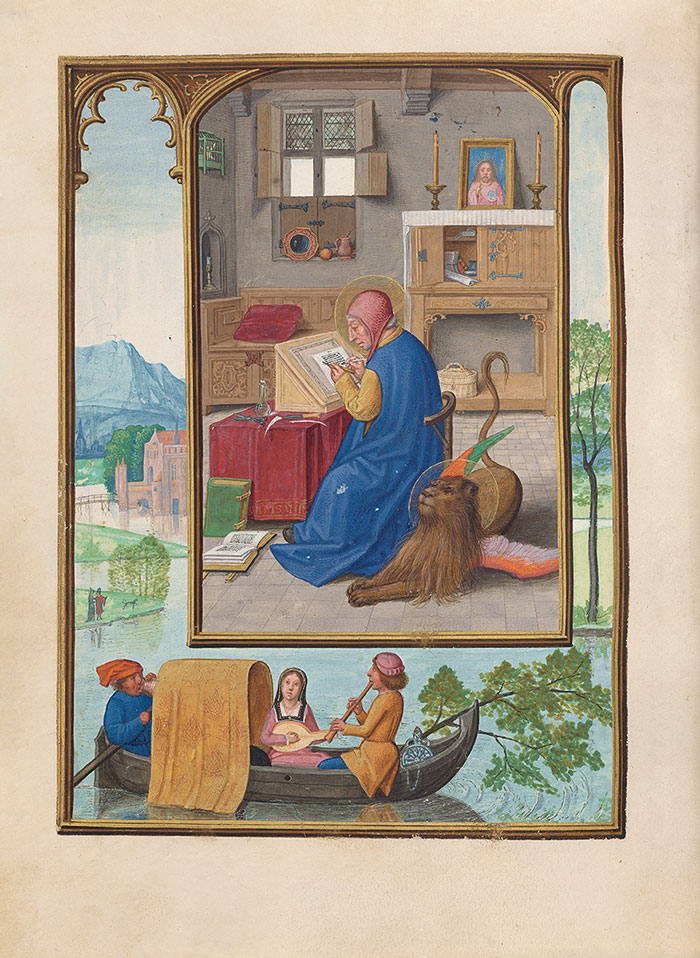 Da Costa hours
Illuminated by Simon Bening (1483/84–1561)
Purchased by J. Pierpont Morgan (1837–1913), 1910
Description:
Within a room, a nimbed Evangelist Mark is seated at a lectern on a writing desk. On the desk are scissors, an inkpot, a knife, and scraps of parchment. Two books with clasps, one of which is open, are on the floor beside the table. He writes in a book with a pen held in his right hand and a scraper in his left hand. A nimbed, winged lion lies on the ground behind him. The room is furnished with a bench and a credenza, on which are two candles flanking a panel painting of Christ holding a globe. A convex mirror, a pitcher, and a round object are within a partially shuttered window. A birdcage hangs on the left wall above a niche with a candle.
The scene is framed by a historiated border depicting two men and a woman in a boat with a canopy on a lake within a landscape. One man drinks from a jug. The woman plays a lute. The second man plays a pipe. Beside him are a canteen and a tree branch. In the background is a building with a bridge over lake.
Credits:
Image courtesy of Akademische Druck- u. Verlagsanstalt, Graz/Austria.