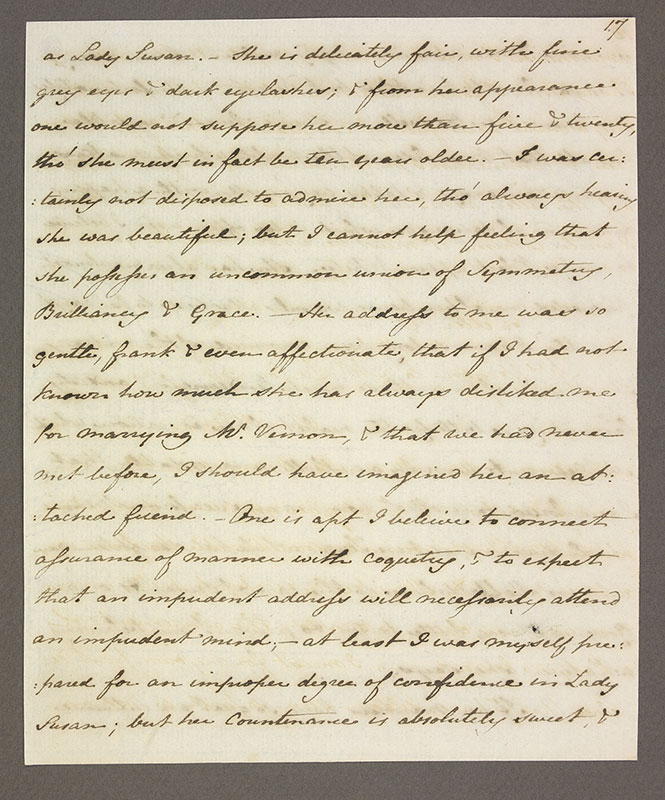 Autograph manuscript, fair copy, of a novel
Transcription:
17
as Lady Susan.- She is delicately fair, with fine
grey eyes & dark eyelashes; & from her appearance
one would not suppose her more than five & twenty,
tho' she must in fact be ten years older.— I was cer:
:tainly not disposed to admire her, tho' always hearing
she was beautiful; but I cannot help feeling that
she possesses an uncommon union of Symmetry,
Brilliancy & Grace. — Her address to me was so
gentle, frank, & even affectionate, that, if I had not
known how much she has always disliked me
for marrying M[r]. Vernon, & that we had never
met before, I should have imagined her an at:
:tached friend. — One is apt I believe to connect
assurance of manner with coquetry, & to expect
that an impudent address will naturally attend
an impudent mind; — at least I was myself pre:
:pared for an improper degree of confidence in Lady
Susan; but her countenance is absolutely sweet, &
Credits:
Images provided by DIAMM on behalf of Jane Austen's Holograph Fiction MSS: A Digital and Print Edition.
Recording of Lady Susan courtesy of Naxos AudioBooks.