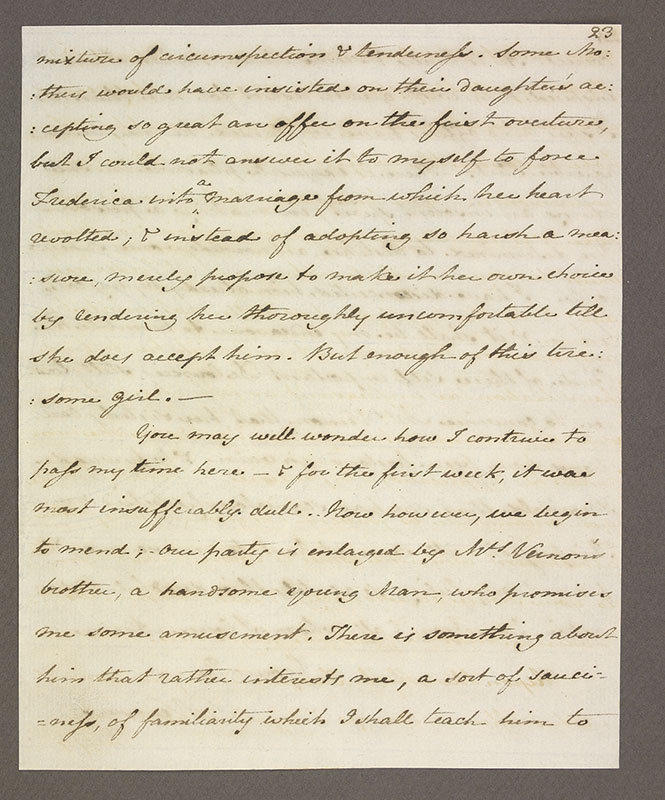 Autograph manuscript, fair copy, of a novel
Transcription:
23
mixture of circumspection & tenderness. Some mo:
:thers would have insisted on their daughter's ac:
:cepting so great an offer on the first overture,
but I could not answer it to myself to force
Frederica into a marriage from which her heart
revolted; & instead of adopting so harsh a mea:
:sure, merely propose to make it her own choice
by rendering her thoroughly uncomfortable till
she does accept him. But enough of this tire:
:some girl. —
     You may well wonder how I contrive to
pass my time here — & for the first week, it was
most insufferably dull. Now however, we begin
to mend; our party is enlarged by Mrs. Vernon's
brother, a handsome young man, who promises
me some amusement. There is something about
him that rather interests me, a sort of sauci:
:ness, of familiarity which I shall teach him to
Credits:
Images provided by DIAMM on behalf of Jane Austen's Holograph Fiction MSS: A Digital and Print Edition.
Recording of Lady Susan courtesy of Naxos AudioBooks.