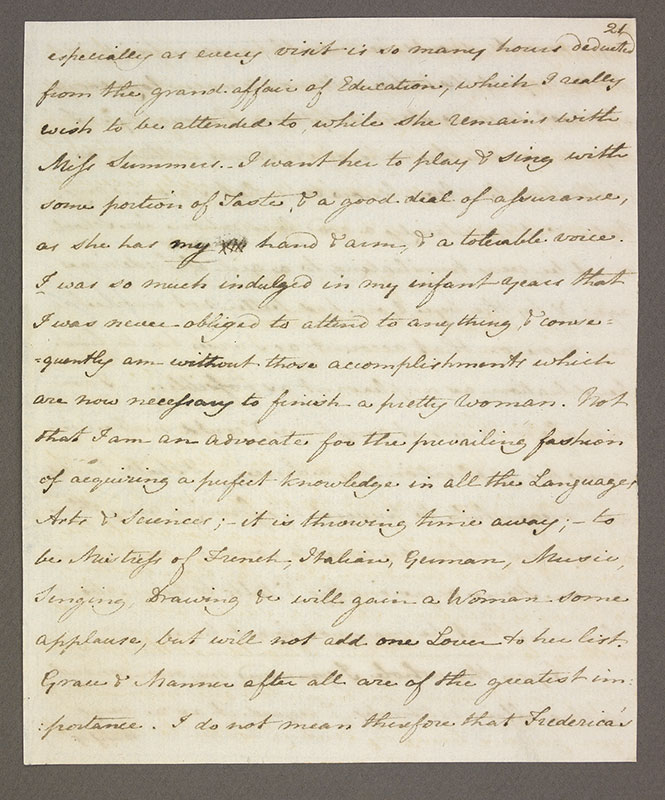 Autograph manuscript, fair copy, of a novel
Transcription:
21
especially as every visit is so many hours deducted
from the grand affair of Education, which I really
wish to be attended to while she remains with
Miss Summers's. — I want her to play & sing with
some portion of Taste & a good deal of assurance,
as she has my hand & arm & a tolerable voice.
I was so much indulged in my infant years that
I was never obliged to attend to anything, & conse:
:quently am without those accomplishments which
are now necessary to finish a pretty woman. Not
that I am an advocate for the prevailing fashion
of acquiring a perfect knowledge in all Languages
Arts & Sciences;— it is throwing time away;— to
be mistress of French, Italian, German, Music,
Singing, Drawing &c., will gain a Woman some
applause, but will not add one Lover to her list.
Grace & Manner after all are of the greatest im:
:portance. I do not mean therefore that Frederica's
Credits:
Images provided by DIAMM on behalf of Jane Austen's Holograph Fiction MSS: A Digital and Print Edition.
Recording of Lady Susan courtesy of Naxos AudioBooks.