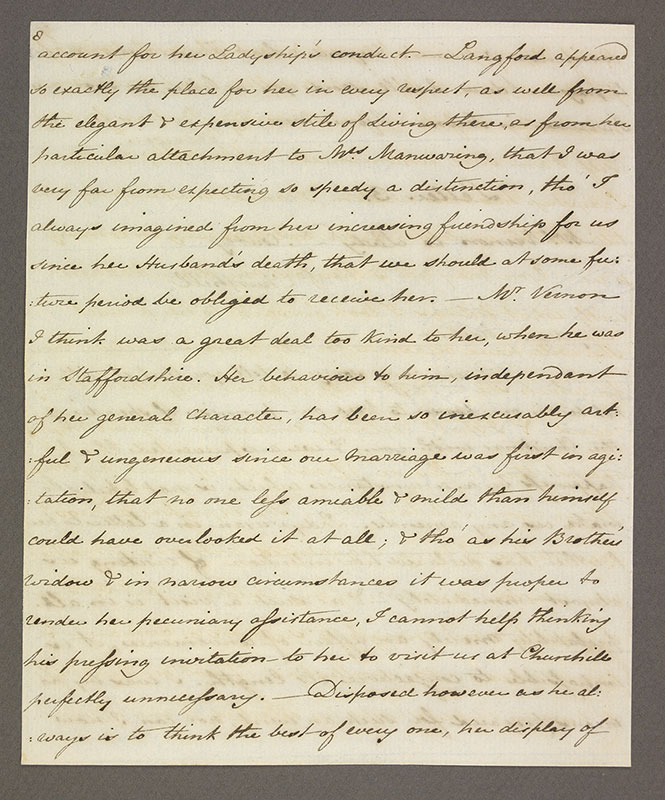 Autograph manuscript, fair copy, of a novel
Transcription:
8
account for her ladyship's conduct. — Langford appeared
so exactly the place for her in every respect, as well from
the elegant & expensive style of living there, as from her
particular attachment to Mrs. Mainwaring, that I was
very far from expecting so speedy a distinction, tho' I
always imagined from her increasing friendship for us
since her husband's death that we should at some fu:
:ture period be obliged to receive her. — Mr. Vernon
I think was a great deal too kind to her, when he was
in Staffordshire. Her behaviour to him, independent
of her general character, has been so inexcusably art:
:ful & ungenerous since our marriage was first in agi:
:tation, that no one less amiable & mild than himself
could have overlooked it all; & tho' as his Brother's
widow & in narrow circumstances it was proper to
render her pecuniary assistance, I cannot help thinking
his pressing invitation to her to visit us at Churchhill
perfectly unnecessary. — Disposed however as he al:
:ways is to think the best of everyone, her display of
Credits:
Images provided by DIAMM on behalf of Jane Austen's Holograph Fiction MSS: A Digital and Print Edition.
Recording of Lady Susan courtesy of Naxos AudioBooks.