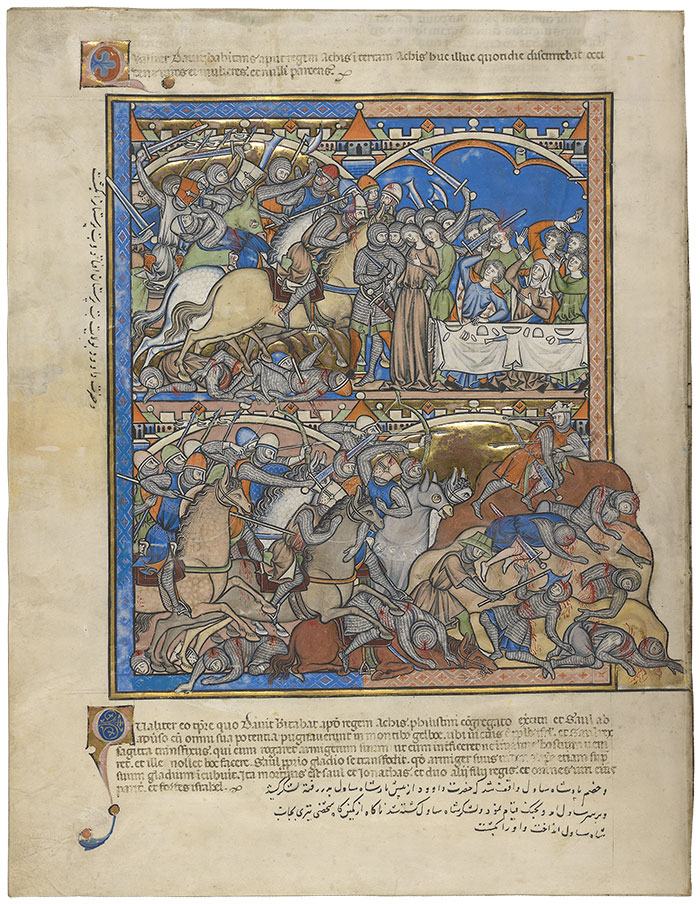 Slaughter of the Amalekites, Saul's Last Stand
Old Testament Miniatures with Latin, Persian, and Judeo-Persian inscriptions
Purchased by J.P. Morgan (1867–1943) in 1916
Page description:
Slaughter of the Amalekites
David finds the Amalekites feasting in a field. The thieves are caught unawares and butchered. All of the captives are recovered; David himself cuts the fetters from the wrists of one of his wives. One of David's company cleaves the skull of an enemy with a sword bearing the inscription 'ODISMORT'(hatred, death), a declaration of the weapon's deadly efficacy. (1 Kings 30:16–19)
Saul's Last Stand
At Mount Gilboa, Saul makes his final stand against the Philistines. The enemy destroys the king's army and kills his three sons, among them, Jonathan. As the advancing Philistines hack through fleeing Israelite horsemen, crossbowmen take aim at the king and grievously wound him. Saul turns for one final look at his attackers and shamefully falls on his own sword. One of the Philistines wields a blade inscribed 'IOIOUSE'('Joyous'), the name of Charlemagne's sword in the Song of Roland. (1 Kings 31:1–6)
Translation:
Folio 34v (Latin)
Upper half: How David, staying with the king of Acish in the land of Acish, was daily running here and there, killing men and women and sparing none. (I Samuel 27: 5–12)
Lower half: How, while David was staying with the king of Achish, the Philistines who had gathered an army, with Saul, opposing them, fought with all their might in the mountains of the Gilboa, where the people of Israel were defeated and the king was pierced through by an arrow. Now, when he had asked his armor bearer to kill him, that he might not fall into the hands of the enemy, and the latter refused to do it, Saul stabbed himself with his own sword. As his armor bearer saw this, he too fell on his sword. Thus died Saul and Jonathan and the king's other two sons, together with all the men of Israel and the mighty men of Israel. (I Samuel 31: 1–6)
Folio 34v (Persian)
Upper left margin: His Excellence David went to the province of the idolaters and slew the idolaters.
Lower half: The enemy of King Saul became aware that His Excellence David has fled from King Saul. He gathered an army and fell upon Saul and started war; the army of King Saul was slain. Suddenly, from a hiding place, someone threw an arrow at King Saul and slew him.
Folio 34v (Judeo-Persian)
Credits:
Content consultant: Richard Leson
Persian translated by Sussan Babaie
Judeo-Persian translated by Vera Basch Moreen
Latin translation by Eran Lupu
After the commentary volume accompanying the Fine Art Facsimile edition by Faksimile Verlag Luzern