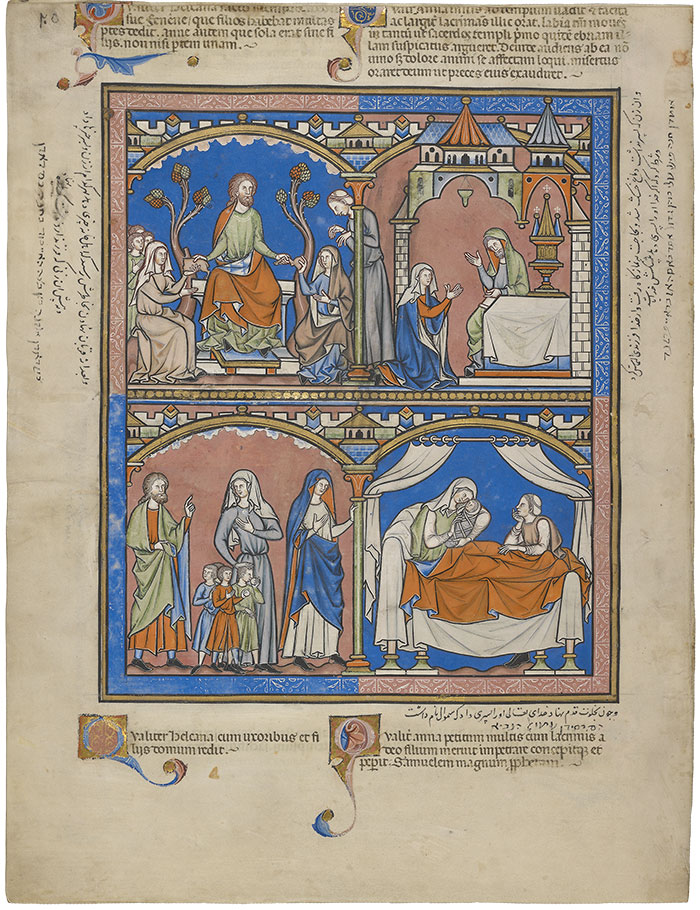 Hannah's Grief, Hannah's Prayer, The Road Home, Samuel
Old Testament Miniatures with Latin, Persian, and Judeo-Persian inscriptions
Purchased by J.P. Morgan (1867–1943) in 1916
Page description:
Hannah's Grief
After the offering is made, Elkanah distributes portions to his family. To Peninnah and her children goes the greatest portion. But to Hannah he can only give a small amount, although he loves and pities her much. Peninnah is depicted here a second time, standing behind the unfortunate Hannah and mocking her. (1 Kings 1:4–7)
Hannah's Prayer
Hannah returns to the temple alone and prays for a son, vowing that she will devote him to the Lord's priesthood. Eli, the chief priest, discovers her weeping and silently pleading before the Ark of the Covenant. Eli takes pity on her and asks the God of Israel to hear her petition. (1 Kings 1:9–17)
The Road Home
This miniature probably depicts the return of Elkanah's family to their home in Ramah. Elkanah appears to be reproving Peninnah, whose children nibble on bread. It is also possible that Elkanah is urging Hannah not to grieve, an event that, in the Bible, takes place before her prayers in the temple. (1 Kings 1:8; 1 Kings 1:19)
Samuel
A miracle occurs. The Lord has heard Hannah's plea and granted her a son. She names him Samuel, meaning "I have asked for him from the Lord." As Hannah adores the swaddled infant, Peninnah leans against the bed, supporting her chin on her hand and wearing an expression of quiet amazement. (1 Kings 1:20)
Translation:
Folio 19v (Latin)
Upper left: How Elkanah, the sacrifice now completed, gave many portions to his wife Peninnah, who had many children, but only one portion to Hanna who was alone with no children. (I Samuel 1:4–6)
Upper right: How Hanna goes in her sorrow to the temple and silently prays there, weeping sorely, while not moving her lips, with the result that, at first, the priest of the temple censures her, suspecting her to be drunk. Then, hearing that she speaks affected not by wine but by the sorrow of her heart, he pities her and entreats God to listen to her prayers. (I Samuel 1: 9–18)
Lower left: How Elkanah returns home with his wives and children. (I Samuel 1: 19)
Lower right: How after Hanna had asked a son from God with many tears, her wish was granted and she conceived and gave birth to Samuel, the great prophet. (I Samuel 1:20)
Folio 19v (Persian)
Persian foliation: 25
Upper left margin: And after having offered the sacrifice, he thought to give some to the household. He gave [many] pieces to the wife with the son and he set aside a [single] piece for the wife with whom he had no child.
Upper right margin: And the childless woman grieved and in supplication went to the temple.
Lower right: And when she stepped into the house, God the exalted gave her a son who was called Samuel.
Folio 19v (Judeo-Persian)
Upper left margin, furthest left: Elkanah gives something to the wife, [mother] of his children; he gives less to Hannah.
Upper right margin, furthest right: Hannah's coming before Eli, the High Priest, to beg him [to intercede for her to have] a child.
Lower right, between Persian and Latin: The birth of the prophet Samuel.
Italicized words are in Hebrew.
Credits:
Content consultant: Richard Leson
Persian translated by Sussan Babaie
Judeo-Persian translated by Vera Basch Moreen
Latin translation by Eran Lupu
After the commentary volume accompanying the Fine Art Facsimile edition by Faksimile Verlag Luzern