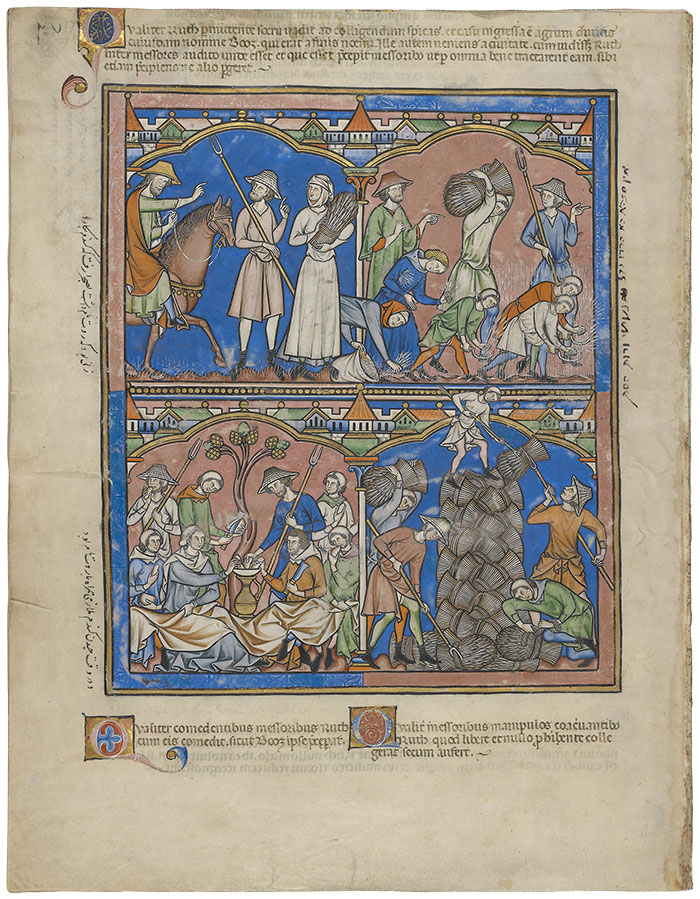 Ruth Meets Boaz, Ruth Eats with Boaz and the Workmen, Stacking Barley
Old Testament Miniatures with Latin, Persian, and Judeo-Persian inscriptions
Purchased by J.P. Morgan (1867–1943) in 1916
Page description:
Ruth Meets Boaz
Boaz, a wealthy kinsman of Ruth's deceased father-in-law, rides forth to survey his fields. He asks his foreman about Ruth and learns that she is the Moabitess who returned with Naomi. Impressed by Ruth's hard work and loyalty to Naomi, Boaz promises her his protection. At right, he addresses his workmen. A field hand directs a worker who carries two sheaves on his back. Three reapers busily cut the grain, followed by Ruth and another young woman, who gather the grain. (Ruth 2:4–9)
Ruth Eats with Boaz and the Workmen
At mealtime, Ruth is invited to eat with Boaz, the foremen, and the field workers. The company spreads a cloth over their knees and dips bread into a bowl of vinegar supported on a golden vessel. (Ruth 2:14)
Stacking Barley
At the end of the day, Boaz's field hands bind and expertly stack the sheaves of wheat in the barns. The stories depicted on this folio provide exemplary pictorial information about daily agricultural practice in the thirteenth century. (Ruth 2:23)
Translation:
Folio 17v (Latin)
Upper half: How, at her mother-in-law's permission, Ruth went to glean the ears of corn and by chance entered the field of some rich man, Boaz by name, who was related to Naomi. Now, when, coming from the city, he had seen Ruth among the reapers and heard where did she come from and who she was, he ordered the reapers to treat her well, while telling her not to turn to others. (Ruth 2: 1–8)
Lower left: How Ruth ate together with the reapers, as Boaz himself had ordered. (Ruth 2:14)
Lower right: How, as the reapers were heaping up the sheaves, Ruth carried with her what she had gleaned freely and with none preventing her. (Ruth 2:15–17)
Folio 17v (Persian)
Persian foliation: 27
Upper left margin: There was a woman named Ruth; she went to the fields to plant wheat.
Lower left margin: And a servant accompanied Ruth during the harvesting of the wheat.
Folio 17v (Judeo-Persian)
Upper right margin: Both these pages contain the tale of Ruth and Naomi.
Credits:
Content consultant: Richard Leson
Persian translated by Sussan Babaie
Judeo-Persian translated by Vera Basch Moreen
Latin translation by Eran Lupu
After the commentary volume accompanying the Fine Art Facsimile edition by Faksimile Verlag Luzern