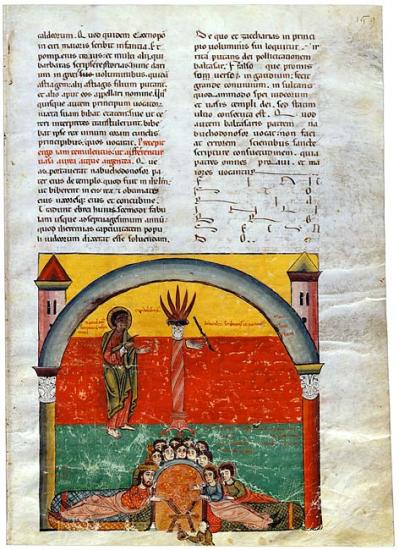 Beatus of Liébana
Las Huelgas Apocalypse
Purchased by Pierpont Morgan, 1910
Page description:
Belshazzar, the king, made a great feast for a thousand of his nobles, and each of them drank according to his age. And when they were drunk, he had the gold and silver vessels that his father, Nebuchadnezzar, had carried away from the temple of Jerusalem, so that all, including concubines, drank from them. In the same hour, there appeared fingers, as of the hand of a man, writing on the wall opposite the candlestick. And the king became disturbed, saying that he who could read and interpret the writing would be clothed with purple, wear a golden chain on his neck, and be third in his kingdom. The queen suggested that Daniel be summoned, who said that Belshazzar, like his father, has not humbled his heart. Daniel then interpreted the three words. mane: "God has numbered your kingdom and has finished it"; thecel: "you have been weighed on the scales and found lacking"; phares: "your kingdom has been divided and has been given to the Medes and the Persians." The same night that Daniel received his rewards Belshazzar was killed, and Darius the Mede succeeded to his kingdom. (Dan. 5)
The king and his guests recline in beds, as in ancient times, while eating. Most are frowning, having heard the foreboding interpretations of the three mysterious words inscribed on the large arch framing the room.
About this exhibition:
The Apocalypse, or Book of Revelation, is not only the last Book of the New Testament, but its most difficult, puzzling, and terrifying. It provided challenges to medieval illustrators and was the source for a number of popular images, such as Christ in Majesty, the Adoration of the Lamb, and the Madonna of the Apocalypse and contributed to the widespread use of the Evangelists' symbols.
Selected images from Apocalypse Then: Medieval Illuminations from the Morgan, an exhibition held at the Morgan are presented here. The exhibition celebrates the completion of a facsimile of the Morgan's Las Huelgas Apocalypse—the latest dated (1220) and largest surviving manuscript of a Spanish tradition of illuminated commentaries on the Apocalypse by the monk Beatus of Liébana. The series of manuscripts constitutes Spain's most important contribution to medieval manuscript illumination.
The Las Huelgas Apocalypse contains three sections: the prefatory cycle, the Apocalypse, and the Book of Daniel.
In addition to forty-nine images from the Las Huelgas Apocalypse, six images from other manuscripts in the Morgan's collections, including the earliest Beatus painted by Maius and one by the Master of the Berry Apocalypse, are in this presentation.