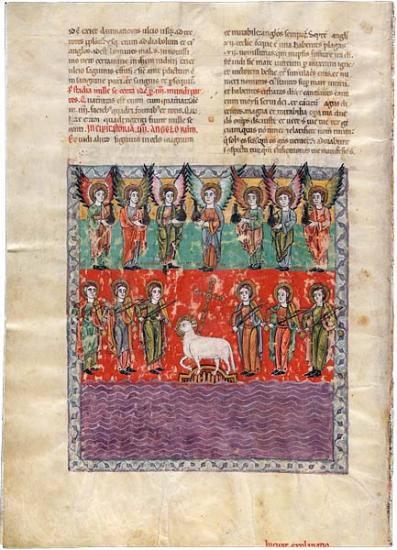 Seven Angels of the Seven Plagues and the Song of the Lamb
Beatus of Liébana
Las Huelgas Apocalypse
Purchased by Pierpont Morgan, 1910
Page description:
And I saw another sign in heaven, great and wondrous: seven angels holding the seven last afflictions. For with them, the wrath of God is completed. And I saw something like a sea of glass mixed with fire. And those who had overcome the beast and his image and the number of his name, were standing upon the sea of glass, holding the harps of God, and singing the canticle of Moses and the canticle of the Lamb, saying: "Great and wondrous are your works, Lord God Almighty. Just and true are your ways, King of all ages." (Rev. 15:1–3)
According to the commentary, the seven angels are the seven churches of Asia, who will empty their cups (shown as flasks) on the blind so that they might see the truth. In the second register the successful believers praise the Lamb (here holding a cross), but with bow instruments rather than harps. The wavy purple band at bottom represents the sea of glass.
About this exhibition:
The Apocalypse, or Book of Revelation, is not only the last Book of the New Testament, but its most difficult, puzzling, and terrifying. It provided challenges to medieval illustrators and was the source for a number of popular images, such as Christ in Majesty, the Adoration of the Lamb, and the Madonna of the Apocalypse and contributed to the widespread use of the Evangelists' symbols.
Selected images from Apocalypse Then: Medieval Illuminations from the Morgan, an exhibition held at the Morgan are presented here. The exhibition celebrates the completion of a facsimile of the Morgan's Las Huelgas Apocalypse—the latest dated (1220) and largest surviving manuscript of a Spanish tradition of illuminated commentaries on the Apocalypse by the monk Beatus of Liébana. The series of manuscripts constitutes Spain's most important contribution to medieval manuscript illumination.
The Las Huelgas Apocalypse contains three sections: the prefatory cycle, the Apocalypse, and the Book of Daniel.
In addition to forty-nine images from the Las Huelgas Apocalypse, six images from other manuscripts in the Morgan's collections, including the earliest Beatus painted by Maius and one by the Master of the Berry Apocalypse, are in this presentation.