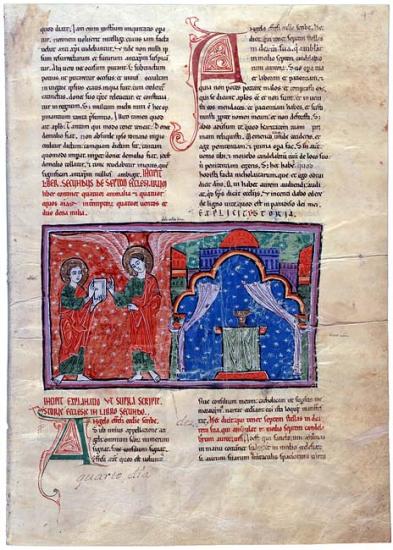 Letter To The Church Of Ephesus
Beatus of Liébana
Las Huelgas Apocalypse
Purchased by Pierpont Morgan, 1910
Page description:
And to the Angel of the Church of Ephesus write: Thus says the One who holds the seven stars in his right hand and walks in the midst of the seven golden candlesticks: I know your works, and your hardship and patient endurance, and that you cannot stand those who are evil. And so, you have tested those who declare themselves to be Apostles and are not, and you have found them to be liars. And you have patient endurance for the sake of my name, and you have not fallen away. Whoever has an ear, let him hear what the Spirit says to the Churches. To him who prevails I will give to eat from the Tree of Life, which is in the Paradise of my God. (Rev. 2:1–7)
In the miniature John holds the letter in the form of a book before the Angel of the Church of Ephesus, the first of the seven churches in Asia Minor. The building is represented as a complex structure with towers and a dome. Curtains part to reveal a gold chalice—an allusion to the ritual of the Mass—on the altar.
About this exhibition:
he Apocalypse, or Book of Revelation, is not only the last Book of the New Testament, but its most difficult, puzzling, and terrifying. It provided challenges to medieval illustrators and was the source for a number of popular images, such as Christ in Majesty, the Adoration of the Lamb, and the Madonna of the Apocalypse and contributed to the widespread use of the Evangelists' symbols.
Selected images from Apocalypse Then: Medieval Illuminations from the Morgan, an exhibition held at the Morgan are presented here. The exhibition celebrates the completion of a facsimile of the Morgan's Las Huelgas Apocalypse—the latest dated (1220) and largest surviving manuscript of a Spanish tradition of illuminated commentaries on the Apocalypse by the monk Beatus of Liébana. The series of manuscripts constitutes Spain's most important contribution to medieval manuscript illumination.
The Las Huelgas Apocalypse contains three sections: the prefatory cycle, the Apocalypse, and the Book of Daniel.
In addition to forty-nine images from the Las Huelgas Apocalypse, six images from other manuscripts in the Morgan's collections, including the earliest Beatus painted by Maius and one by the Master of the Berry Apocalypse, are in this presentation.