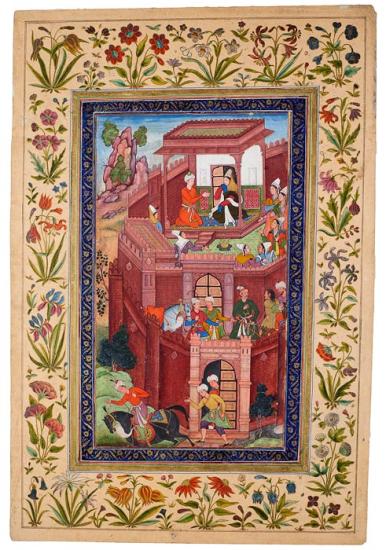 Bābur Seeks His Grandmother's Advice
Leaf from the Read Mughal Album, but formerly fol. 86 in the British Library's Bāburnāma, probably by Sānvalah
ca. 1590–92, with early-19th century borders
Purchasedby Pierpont Morgan, 1911
Item description:
Bābur was the founder of the Mughal dynasty in India (r. 1526–1530). Although no artworks can be connected with his patronage, he completed the Bāburnāma (Memoirs of Bābur) shortly before his death. His grandson Akbar ordered a Persian translation, completed in 1589. In the 1590s, six illustrated copies were made, including the one in the British Library, London, from which this leaf comes.
According to Bābur, his grandmother, Esän Dawlat Begim, was very intelligent. In October 1494 he sought her counsel regarding the rebellious Ḥasan Ya˓qūb. They decided to depose Ya˓qūb, who, while hunting, learned of the plan and fled to Samarqand. The meeting took place in a rooftop red-stone pavilion. The miniature is probably by the artist Sānvalah (fl. 1580s–1590s).
Exhibition section:
The Read Mughal Album
Pierpont Morgan purchased the Read Mughal album, along with a Persian album, from Sir Charles Hercules Read, Keeper of British and Medieval Antiquities at the British Museum, in 1911. The Morgan purchase consisted of thirty folios (including both Indian miniatures and the Mughal portraits presented here), but Read owned at least forty-eight others, now widely dispersed. The leaves were probably once bound in several lacquered bindings. The identity of their compiler has not been established, but many borders date from the eighteenth and nineteenth centuries. The Mughal emperors of India commissioned biographies and were frequently portrayed by artists. Here the paintings are presented in the order of the emperor's reigns rather than the dates of the miniatures, starting with Bābur (r. 1526–30), the Muslim founder of the dynasty, and ending with Shāh Jahān (r. 1628–58), builder of the Taj Mahal.