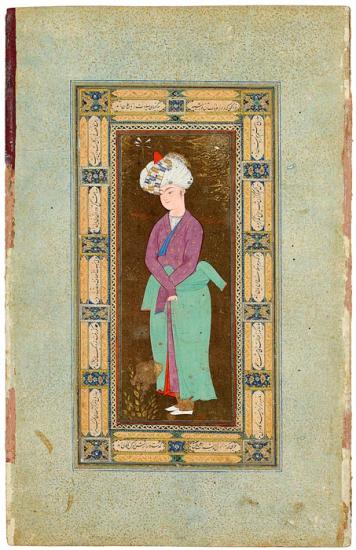 Leaf from the Read Persian Album, signed Muḥammad Mu˒min
Purchased by Pierpont Morgan, 1911
Item description:
The crossed arms of the standing youth are echoed in the empty coat sleeves tied around his waist. His large turban surrounds a conical orange kulāh of Uzbek type and is crossed diagonally with a richly colored plaid scarf. The leaf is important because the inscription flanking the youth's shoulders is the basis for Ḥusain Shāmlū's ownership of the album: In the library of his successful excellency [whose] watchword is justice/ Ḥusain Khān Shāmlū the governor of Herat. Other leaves are also connected with Herat. Indeed, an inscription near the youth's feet ascribes this work to the painter Muḥammad Mu˒min, whose style derived from his teacher, Muḥammadī of Herat (fl. 1575–83).
Exhibition section:
The Read Persian Album
Pierpont Morgan's 1911 purchase of two albums (one Persian, one Mughal) from Sir Charles Hercules Read, Keeper of British and Medieval Antiquities at the British Museum, London, proved to be an important turning point in the history of the Morgan Islamic collection. Belle da Costa Greene, Morgan's librarian, accompanied by art historian and collector Bernard Berenson, first saw paintings from the albums at the great exhibition of Islamic art in Munich the previous year. She wrote to Read that they were among the finest works exhibited there and that this important school should be represented in Morgan's collection, asking him to give Morgan the right of first refusal. The Persian album was begun by Husain Khān Shāmlū, governor of Herat (r. 1598–1618), and possibly continued by his son and successor, Hasān Shāmlū (d. 1646). Fifteen of its twenty-seven sheets, once bound accordion style, are presented here. Many of the paintings were made in Herat itself.